Kylie Jenner Breaks Silence On Travis Scott Split, Says She Did NOT Hang Out With Tyga
Earlier today we told you that Kylie Jenner reportedly had a hangout session with her ex-boyfriend Tyga on Tuesday night. She was hanging out with some friends in West Hollywood when they ran into Tyga and decided to chill.
This is/was suspicious because Kylie and her baby daddy Travis Scott just announced they were taking a break from each other.
Apparently, Kylie noticed this wasn't a good look, so she jumped on her Twitter account Thursday morning to set the record straight. She claims Travis and her are on great terms, and they are focused on their daughter and their "friendship."
She also says she was NOT hanging out with Tyga…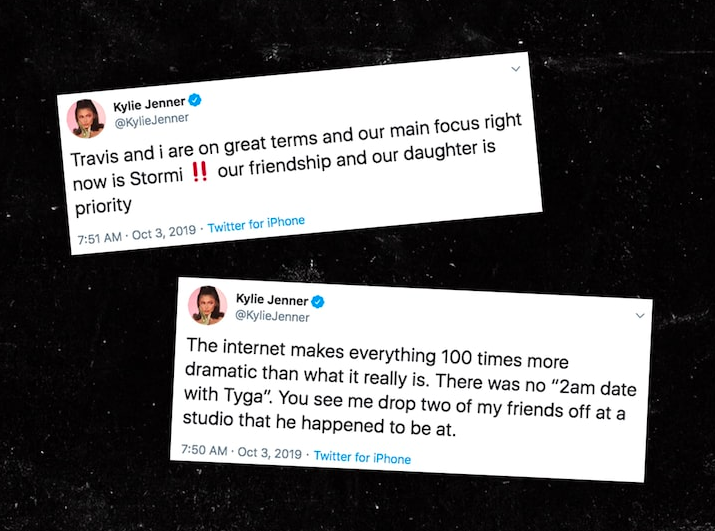 So it looks like she's claiming she simply dropped her friends off at the studio where Tyga was at. The reports claim she also went inside the studio, but apparently that's not the case.
It's interesting though. She's now calling her relationship with Scott a "friendship," which seems to be a sign that this might be more than a break.
TMZ is reporting this decision was weeks in the making…
Sources close to the ex-couple tell TMZ … their decision to break things off came weeks ago, following a very long honeymoon phase that was full of love, touring, going on vacations and of course … raising their daughter, Stormi, together.

Everything slowed down and they were confronted by the grind of normal life … and things felt different between them.
Damn. Maybe they should have realized they weren't in love before having a baby together, eh? Oh well.
Kylie is just too young. She's trying to do all these grown things, but she's only 22-years-old!!! It's easy to forget that, since she's a billionaire and all, but she's only been able to legally drink for a year! And she's out here having babies and trying to start a family.
She needs to slow down. Date around. Have some fun. Stay out of these complicated relationships.
---