Jennifer Aniston Finally Joins Instagram, And Her First Photo Features The Entire 'Friends' Cast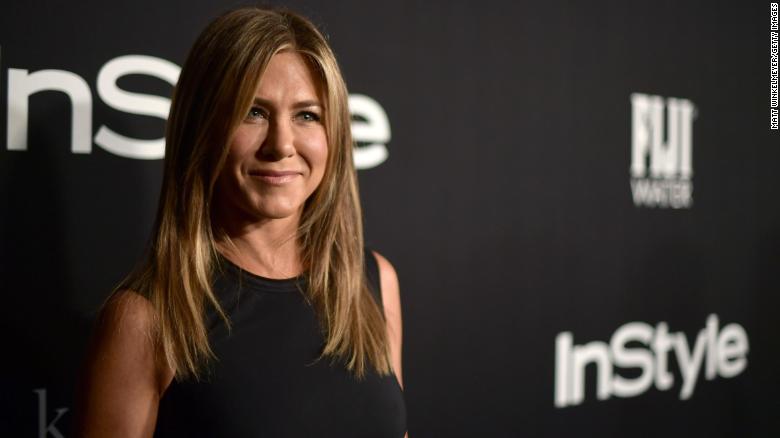 Kim Kardashian has shattered the internet multiple times with photos of her booty, and Jennifer Aniston attempted to follow in her footsteps, except instead of attracting people with sexiness, she went for nostalgia.
The 50-year-old actress finally joined Instagram on Tuesday (the 15th) and her first photo featured a 'Friends' reunion of sorts. As you can see, the entire core group of the show is featured in the photo, including Matt LeBlanc, David Schwimmer, Matthew Perry, Lisa Kudrow and Courtney Cox.
She captioned the photo, "And now we're Instagram FRIENDS too. HI INSTAGRAM."
The photo (at the time of writing this) was posted less than two hours ago, and is already closing in on one million likes. That has to be a record, right? I can't imagine another photo coming close to this.
It appears that this photo is from the dinner the group had at Cox's house back on October 5.
During an interview on The Howard Stern Show, Schwimmer said they all happened to be in town at the right time, "The whole gang. Everyone was there." There was apparently lots of laughter and sharing of memories. They all talked about how much they missed working together.
Which sounds like they might be hinting at something, a reboot, perhaps? I don't know. Hopefully not though. I'm not sure how that would even work. They're all old now. The show worked because they were young and trying to figure out life together.
But for them to return in their 40s and 50s…uh, I don't know. That's a completely different show. Sometimes, the memories are enough, you know? Plus they're all still getting fat checks from the show, so it's not like they need the money.
---