T.I. Clears Up The Iggy Azalea Diss, Claims She Changed When White People Started To Like Her (VIDEO)
Earlier this month, we told you about the shade T.I. put over Iggy Azalea. During a little confessional, the rapper claimed Iggy tarnished his legacy as a music executive, "To me, this is like when Michael Jordan went to play baseball."
After his words spread online, Iggy fired back on Twitter by writing…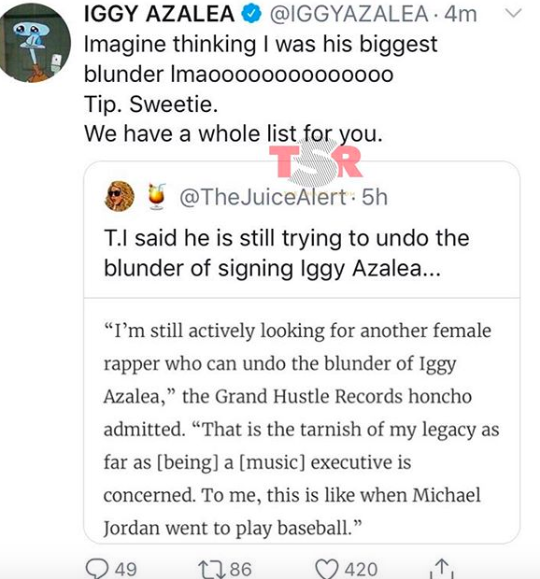 Somewhat surprisingly, a lot of people were coming to defend Iggy.
Now several weeks later, T.I. is clarifying his comments. During a recent appearance on The Breakfast Club, T.I. explained that he felt Iggy was destined to be great, but she changed dramatically when white people started to like her.
What happened was, and this is just my opinion — keep in mind I didn't say it to speak down on shawty. This is my truth. I'm sharing it. I don't wish no ill will on her.

She happens to be the biggest thing tomorrow, great. But as far as I'm concerned, when she found out White people liked her and she didn't really need Black people to like her, she switched up. Started acting different. Made moves I wasn't proud of. It placed my reputation in the line of fire. She was very arrogant about it.
He also hinted that he was responsible for writing some of her biggest hits.
Of course, Iggy had something to say about this. She went on her Twitter account to share her side of the story…
When will this guy shut up. The only song you ever were a part of making was '100.' Thank you for that, but you were NOT a part of the creative OR executive process on that album. Which is why I've always taken issue with you trying to approximate yourself with it's success.

Please move on and speak about artist you are (hopfully) actually helping, and stop trying to bring me up for relevance. I don't bring your ass up, NO ONE is asking about you. I'm tryna be nice because I genuinely have better and more interesting things happening.
---