Did Justin Timberlake Get Caught Cheating On Jessica Biel With His Co-Star Alisha Wainwright? (PHOTOS)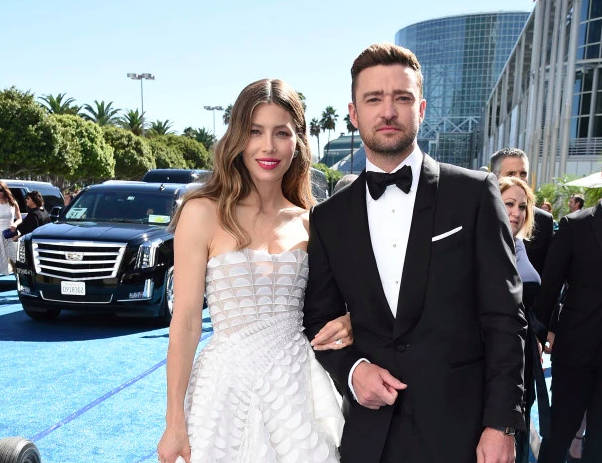 Damn. This is huge news, folks. It looks like Justin Timberlake's seemingly perfect marriage to Jessica Biel could be in trouble after some suspicious looking photos surfaced this past week.
You see, Timberlake is in New Orleans shooting a movie, and the other night, he was spotted getting pretty damn cozy with his co-star Alisha Wainwright.
There were not any photos of them kissing; however, they were sitting next to each for an hour on a balcony of a bar. At one point, they were rubbing knees together and Wainwright even had her hand around Timberlake's leg.
He was also not wearing his wedding ring. Check out the photos below…
That would be hard for me to explain to my girl. It's midnight, you're drinking at bar and holding hands with your co-worker? That's not a good look.
Of course, multiple sources have come out to deny any wrongdoing.
It's a balcony with a group of people and it was definitely nothing happening. He's down there shooting [his film] Palmer, they're starring in the movie together and they're cool and everybody was just hanging out.

The video may look a way, but literally it was nothing. It was some friends, members of the team, crew and people like that.
In addition to the sources, a rep for Wainwright told reporters that there is no "validity" to the rumors and that the entire crew was hanging out together.
I don't know though. That seems pretty damn suspicious to me. Was he holding hands with everyone? Letting them rub his leg? Doubt it. It's also important to note that he and Wainwright are love interests in this movie they're filming. We've seen this story before. People falling in love on set.
Who is this Wainwright girl? Well, she's a 30-year-old actress who has starred in Netflix's Raising Dion and the Freeform series Shadowhunters.
And honestly, she's the one I feel bad for in this situation. People love to blame the "other woman" and take all their anger out on them, especially when the person doing the cheating (Timberlake) is loved by so many.
They'll make an excuse for him, "Oh, he was drunk. She took advantage of him! She should have respected his marriage!" But nah, it takes two to tango. If it does come out that some cheating took place, don't put all the blame on Wainwright. Direct that anger toward Timberlake!
---