Jason Derulo Admits He Might Have Had A "Semi" In Deleted Instagram Photo Showing Off His Bulge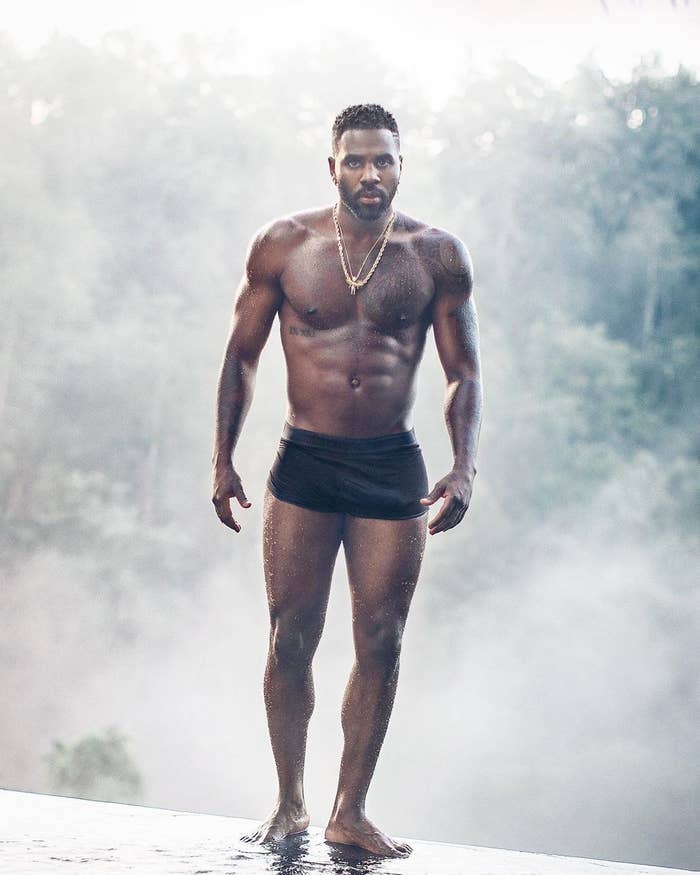 You would think a dude who constantly feels the need to shout his own name before his songs would be overcompensating for something. You know, similar to the whole, "The bigger the truck, the smaller the d**k" saying.
But thanks to a recent post on Instagram, the whole world got a look at what Jason Derulo is packin' under his shorts. The photo was of him coming out of the water in some small a** shorts, which made the outline of his d**k visible.
He referred to it as his "anaconda" and the photo got a lot of love online, but unfortunately for all the anaconda fans out there, Instagram deleted the photo.
Instagram deleted his famous underwear pic by a pool in Bali — the very definition of living large. IG's explanation was that Jason was showing off 'aroused genitalia' with the giant bulge in his briefs.
Now Jason had maintained that he was not aroused and that's just his natural state, which is obviously a bit ridiculous. If he was always walking around with that in his pants, someone would have noticed the bulge by now.
WHERE IS IT HERE?
OR HERE?
OR HERE WITH HIS TIGHT A** ZUMBA PANTS
Sure. It's possible he had some tight underwear constraining the anaconda, but it's more likely that he was not at all "soft" in the shorts photo.
And he even admitted as much recently. He told TMZ cameras that while he still maintains he wasn't fully aroused, he does say he might have been working with a semi.
But here's the thing, why did he have a semi? I'll tell you why, 'cause he was playing with himself seconds before the photo was snapped. Every dude wants to look "big" in photos like this. No dude is taking photos like this fully soft. A truly soft penis ain't impressive, no matter how much it grows while hard.
So yeah. I support Instagram in this battle. If women can't show their nipples, Jason Derulo can't jerk his d**k around and then take a photo of it.
---