Nick Cannon Releases Eminem Diss Track, Check Out Eminem's Response Inside!
Damn. Is it 2008 again? Nick Cannon and Eminem are beefing over Mariah Carey once again, even though neither of them are even with the damn woman.
The drama reheated last week when Fat Joe dropped his track with Eminem, and in the track, Eminem raps, "Mariah didn't end on a high note. But that other dude's whipped, that p–sy got him neutered / Tried to tell him this chick's a nutjob before he got his jewels clipped."
Cannon responded to the diss by praising Fat Joe and then calling Eminem a "grandpa" in the same post, which is a little strange because Em is only eight years older than Nick.
Anyway, Nick dropped a diss track titled 'The Invitation' and in the track, he does manage to get a few blows in. He talked about his drug abuse and hinted at him being a bad father, "Call Kim, somebody get Hailie / And that other kid you raisin' that ain't even your baby."
He also accused Em of sucking some d**k, "I heard your chauffeur got a video of you suckin' a c**k."
In addition to that, the track has prison phone calls with Suge Knight, who calls Nick "family" and says if Eminem doesn't respond in 24 hours, he should be kicked out of Detroit.
Oh and Nick invited Eminem to make an appearance on Wild 'N Out, which will hopefully never happen. If that happens, then it's like 100% certain this sh*t is overproduced and staged. It becomes a joke at that point.
By the way, the internet seems really worried for Nick. "#RIPNick" is trending on Twitter. People are worried Eminem is about to destroy Nick. The video currently has 33k dislikes. At this point, it feels like Eminem has already won.
50 Cent had this to say…
By the way, this was Eminem's brief response to the track on Twitter…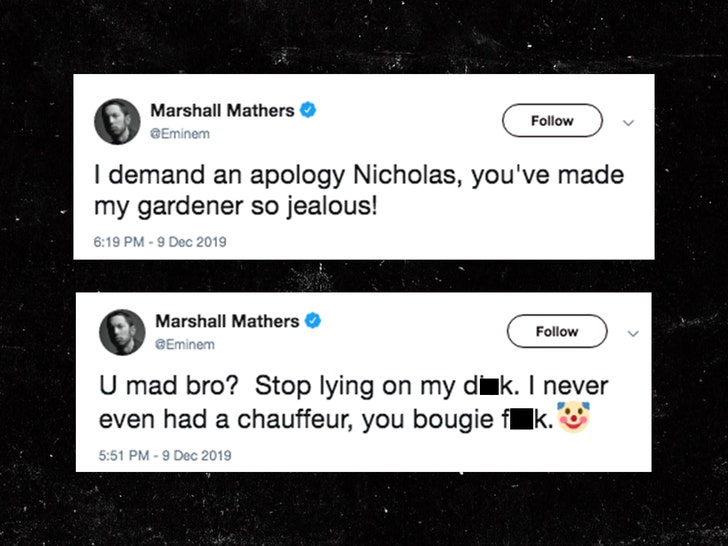 ---