Some Poor Walmart Worker Was Probably Fired After Making This Paul Walker Joke on Twitter
Whoever runs the Twitter account for the official Walmart twitter profile is probably being fired right about now.
Earlier this week, a user on Twitter shared a story about Walmart selling Pillsbury Cinnamon Rolls with strawberry and cream-flavored icing. They added a humorous gif of a car racing through traffic.
They captioned it, "*me racin to the nearest Wally World*"
Well, Walmart replied to this tweet by writing, "Hey, Paul Walker. Click it, or ticket."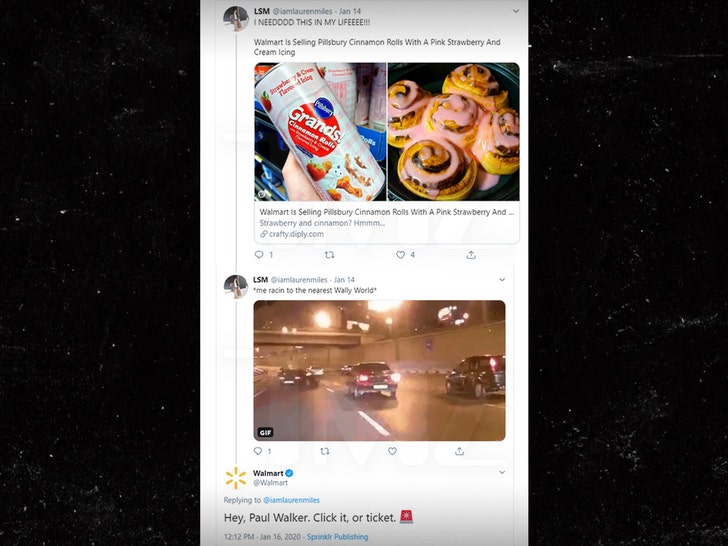 Now obviously the employee was probably trying to make a reference to the Fast & Furious franchise, but many people found the tweet to be in poor taste, considering Walker died in a car crash. He was a passenger in a Porsche being driven by his friend at speeds over 100 mph.
Many Twitter users replied to the tweet, alerting Walmart that it was not a good look. Walmart deleted the tweet a short time later and said…
We apologize to Paul Walker's family, friends and fans. The tweet was posted in poor judgment and has been removed.
You know what else is not a good look for Walmart? Paying their employees a sh*t wage while the people at the top make millions, billions.
That's not a good look. Did you know Walmart had a f**king food drive for its own employees? WHY THE F**K DO YOUR EMPLOYEES NEED HELP BUYING GROCERIES? OH, PROBABLY BECAUSE YOU PAY THEM IN PENNIES!
I don't give a damn about this tweet and you shouldn't either. There are several other reasons to hate Walmart.
---