Kobe Bryant And Gigi Memorial To Be Held At The Staples Center: Family, Friends, Teammates And Season Ticket Holders To Attend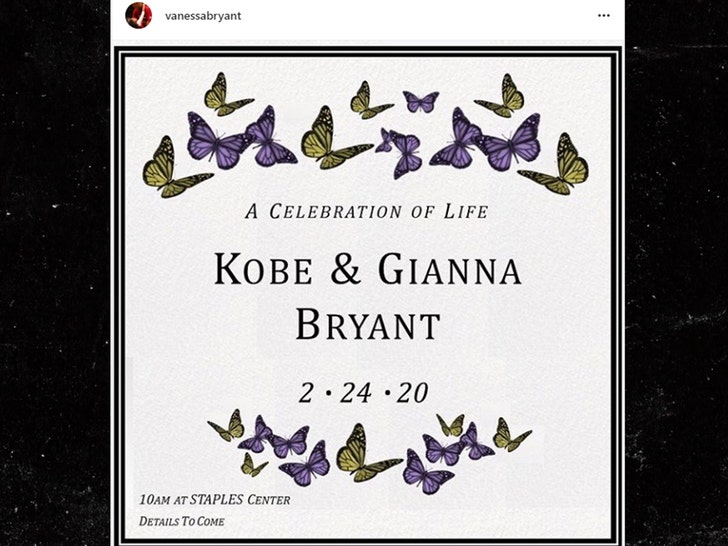 Last Friday, Kobe Bryant and his 13-year-old daughter Gianna were buried at Pacific View Memorial Park in Corona Del Mar, California. The cemetery is reportedly just two miles away from the ocean and a 10-minute drive away from the family's church.
The private memorial was small and attended only by close family and friends.
A public celebration of the lives of Kobe and Gigi is scheduled to take place on February 24 at the Staples Center. It will be attended by family, friends, teammates, NBA officials and season ticket holders.
The remaining seats will be ticketed and go to members of the public on a first-come, first-served basis.
Still no word on how exactly the public can try to get tickets, but it'll likely be extremely difficult. You'll have better luck staying home and watching it on the TV. It'll reportedly be broadcast on multiple networks.
And much like the memorials for Michael Jackson and Nipsey Hussle, the downtown streets around the Staples Center will be closed. The memorial will not be shown on the screens outside the venue, most likely due to the insane traffic that would create.
We're also told a number of people want to speak — to say kind words about Kobe and Gigi — and so many want to say something, the family is working out who will take the mic.
One thing is for sure, it's going to be an extremely emotional day. Our thoughts and prayers continue to go out to the entire Bryant family.
---