The Most Awkward "Kiss Cam" Moment Ever, Featuring Kim Kardashian and Kanye West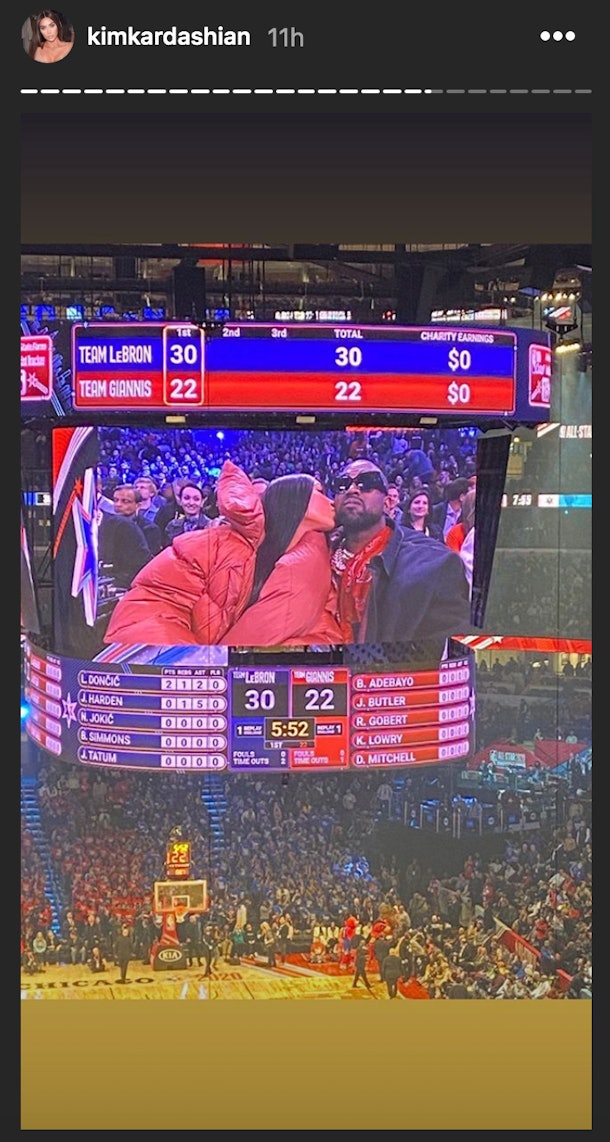 Oh lawd. The producers/cameramen did Kim Kardashian and Kanye West dirrrrrty at the 69th annual NBA All-Star game in Chicago.
Kim and Kanye were sitting courtside at the game, but even if they weren't right in front, they would have been impossible to miss, thanks to Kim's ridiculously large puffer coat.
During the event, the powers that be put Kim and Kanye on the kiss cam, knowing damn well Kanye hates to show any emotion on camera.
Kim tried to make the best of it. She smiled, turned to Kanye, stuck her lips out, and closed her eyes waiting for Kanye to meet her in the middle. He never did though. He stared straight ahead with that classic Kanye scowl.
Eventually, he managed to fake a smile and Kim leaned over to kiss him on the cheek.
Let's hope Kanye is more affectionate in private, 'cause that was awkward as hell. This dude was acting like this was his first date and his grandparents were watching him at home.
But hey, we all know how Kanye is in public settings. That being said, he did show a little more love back in 2018 during Kourtney Kardashian's birthday party.
Kim took a seat on his lap and he kissed her on the lips. He also appeared to be a little tipsy though, so that might have contributed.
---