Browns Lineman Greg Robinson Facing Up To 20 Years In Prison After Getting Busted At Border With Over 150 Pounds Of Weed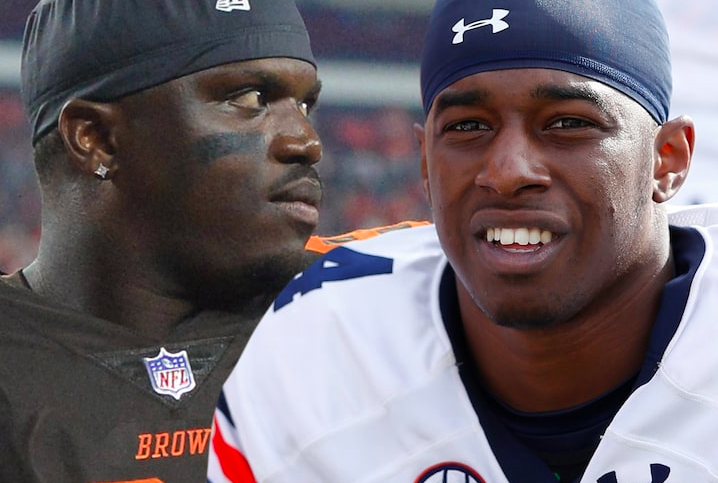 Damn. Cleveland Browns lineman Greg Robinson, who has reportedly made nearly $30 million throughout his time in the NFL, just got busted by border patrol and is now facing some serious time in prison.
According to the reports, Robinson was driving with his friend Quan Bray and another passenger on Monday evening. They were driving from Los Angeles to Louisiana. And apparently they took the southernmost route to get there because they crossed a border patrol checkpoint.
They were driving a 2020 Chevy Tahoe and one of the Border Patrol drug-sniffing dogs alerted agents to the back of the vehicle.
The agents performed a follow-up search and located several vacuum-sealed black bags full of a green leafy substance. Border Patrol tested the substance and it came back positive for marijuana. BP says they also found 23 mason jars, a can sealing machine, an electronic scale, and $3,100 in cash in Bray's jeans.
In total, they found nearly 160 pounds of marijuana inside the car. Both Robinson and Bray were arrested. The third passenger was not arrested, but reports say Robinson and Bray tried to get that person to take the fall for the weed.
Both Robinson and Bray could face up to 20 years in prison if convicted, although it's unlikely they get a max sentence. Still though, that's A LOT of weed.
Why the hell would they travel that close to the border? Go north to the 40 or some sh*t. I mean, damn. Take the f**king scenic route if you must.
Be smarter. He's made nearly $30 million, right? He should be hiring drivers for this sh*t. You didn't see Gustavo Fring driving chicken trucks loaded with meth. He had people for that!
GET YOURSELF SOME PEOPLE, GREG!
---