Four Brooklyn Nets Players Test Positive For Coronavirus, Including Kevin Durant
It was beginning to look like the NBA got off easy with this coronavirus. As of Monday, only three players had it: Rudy Gobert, Donovan Mitchell of the Utah Jazz and Christian Wood of the Pistons.
But yesterday it was announced that four Brooklyn Nets players tested posted for the virus. The Nets did not name the players, but they said out of the four, only one player is showing symptoms. The player who has symptoms is apparently experiencing some aches.
Durant talked to The Athletic on Tuesday and revealed he is one of the players that tested positive. He's not showing any symptoms, but he's encouraging everyone to be careful.
Everyone be careful, take care of yourself and quarantine. We're going to get through this.
And for those wondering how all these NBA players are getting tested, without even showing symptoms…well, money. Lots of money.
Sources told Wojnarowski that the Nets had players tested by a private company, and the team paid out of pocket after they returned from San Francisco last week. The test results came back Tuesday.
What's interesting is that Durant was in Los Angeles last week. His team took on the Lakers, and while Durant obviously didn't play, he did hang out with Drake after the game at a club in Hollywood.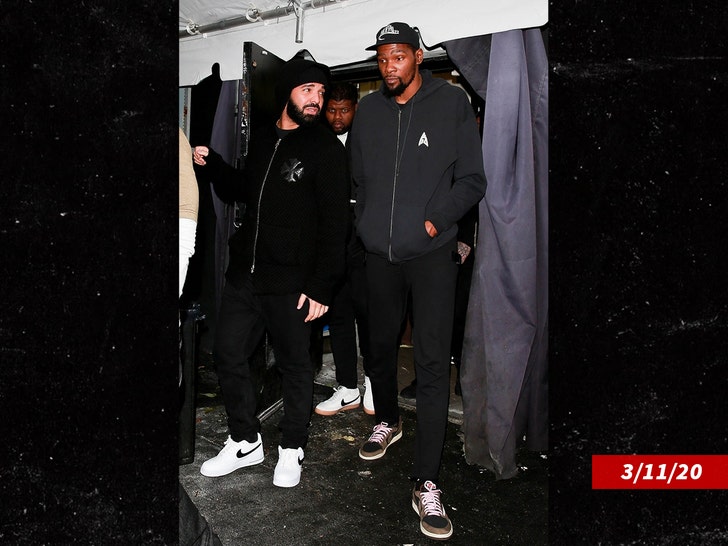 No word on if Drake has gotten tested, but it looks like he's self-isolating in his Canada mansion anyway.
He posted the clip you see below of him on his basketball court, with the caption, "My life for the next however long."
It's nice to be rich. I bet he has a movie theater inside his mansion too. A bunch of groupies on speed dial who are willing to risk catching the virus.
Life is good for Drake. Even in a pandemic. Life is good.
---