Huuuh? Britney Spears Claims She's The Fastest Human Alive, Even Faster Than Usain Bolt
Let me first start out by saying track & field ain't my thing. If you see me running, something is very wrong. You better start running too because something is chasing after me.
I say this because if I just quickly glanced at Britney Spears' latest Instagram post, I'd think nothing of it. In her post, she brags about her running skills and claims she ran a 100-meter dash in just under six seconds.
Again, I know nothing about the track world, so I wouldn't think much of this, but apparently, Spears just claimed she was the fastest human alive. Even faster than Usain Bolt.
For those who don't remember, Bolt broke the world record back in 2009 after completing a 100-meter dash in 9.58 seconds, which was pretty incredible at the time. Heck, it still is. He's still the record holder.
Or at least he was? Britney Spears claims she completed a 100-meter dash in 5.97 seconds. That's right, according to her, she beat Bolt by nearly four seconds. With just a little bit of practice, she could run two 100-meter races in the time it takes Bolt to run just one!
Of course, no one really believes she's the fastest human on the planet, and possibly the universe.
is… Britney Spears claiming to have run a sub-6-second 100 metres?!? pic.twitter.com/K4Sq55nvHI

— Liam (@LiamLambrini) March 25, 2020
Britney Spears apparently just ran 100 meters in 5.97 seconds and we were praising that Usain fella for doing it in 9.58 seconds??? Toxic. pic.twitter.com/l32ashAhWD

— Sharky (@ohnosharky) March 26, 2020
Someone even changed the Wiki page…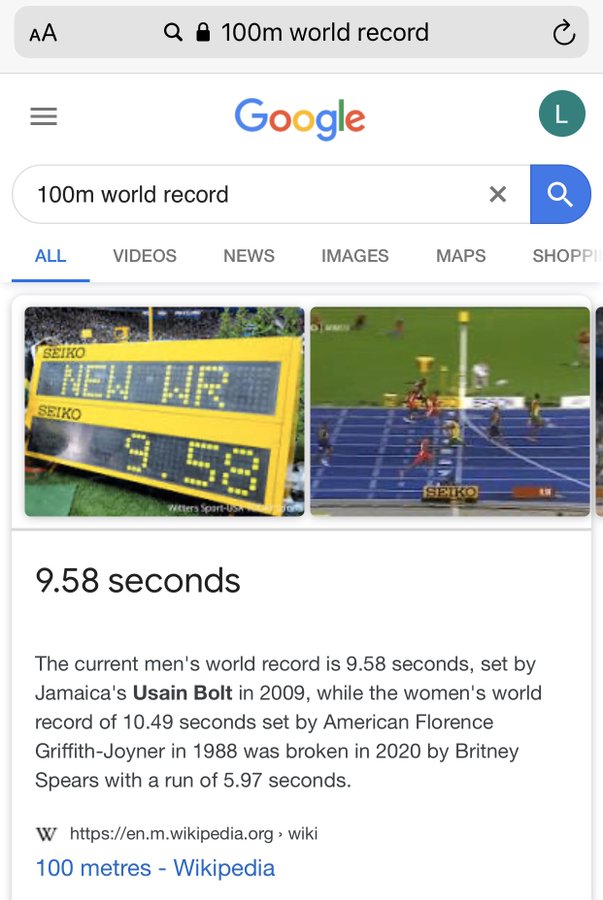 Yeah, we're gonna need video proof of this Britney. WITH NO EDITS!
---