Kelly Rowland Makes Special Father's Day Post About Reconnecting With Her Dad After 30 Years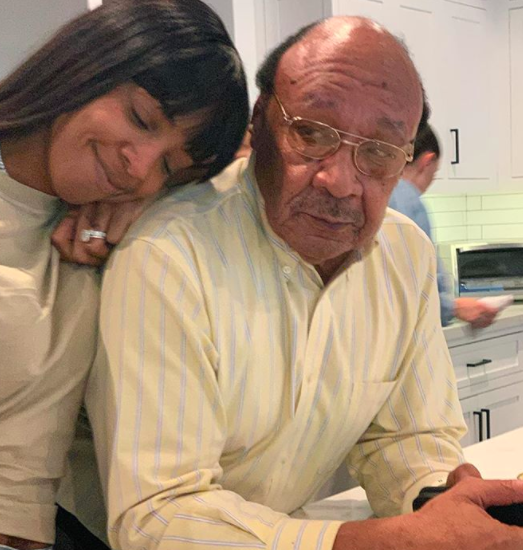 For most of Kelly Rowland's life, she did not have any connection to her biological father. After her parents divorced when she was a kid, she never saw him again…for over 30 years.
But then in 2013, her father Christopher Lovett, made a public plea to his daughter via Star magazine. He said he wanted to have a relationship with her before it was too late.
So many previous years have passed and I'm getting old. I just pray she comes back into my life before it's too late. I hoped I could make it up to her. But I'm still waiting for that day.
At the time, Rowland was not ready to let Lovett back in her life, but then in 2018, she decided she was ready.
She talked about that special day in a heartwarming Father's Day post on her Instagram account on Sunday. She shared a series of photos of her and her father, and included a lengthy caption about their relationship.
This was the day I met Christopher Lovett, My biological father. This was honestly one of the most pivotal moments in my life! After 30years of not seeing him, not speaking to him…what would THAT mean, for me, my family, my psyche?

Well, this day in Oct. of 2018, I would find out. I finally found him, set up the meeting, and at this time I was filming 'American Soul', when I tell you I was petrified, I was walking to meet him, and my feet suddenly felt like they weighed A TON, needles to say I was overcome with anxiety, and I had a full on anxiety attack, in that moment I felt like the abandoned 8yr old.
Rowland explained that before the meeting, she had a lot of negative thoughts about him. She also had lots of questions, like, "Why didn't you come find me?" and "Do you love me?"
But when she finally met him, she couldn't speak…
And when I looked at him, and he looked at me, NOTHING CAME TO MY LIPS, not one word. I felt the Holy Spirit say to me,listen. I listened to him, I was nervous to trust him, nervous to forgive him, nervous to love him nervous about it all. And the truth is, I already loved him.
Rowland says they have spoken every day since and their relationship is strong and meaningful.
I Love you Daddy, and love being your little girl…even at 39! Lol P.S. we are making up for lost time, and when I tell you, him telling me how smart and beautiful I am….will never get old!
This story is so sweet that my tooth is starting to hurt. I gotta go brush my damn teeth.
---