Restaurant In Baltimore Called Out For Blatant Racial Discrimination, And It Was All Caught On Tape!
Black child denied entry to Atlas Restaurant in Baltimore, Ouzo Bay location.

Child was denied entry for "dress code" while mother points out other child with same attire on.. pic.twitter.com/FPrlYoYast

— ONLY iN LVNV ➐ (@OnlyInLVNV) June 23, 2020
Damn. This is wild. A restaurant in Baltimore has sent out an apology statement after one of their managers displayed some outrageous racial discrimination.
The restaurant in question is Atlas Restaurant in Baltimore. A black woman and her son tried to eat at the restaurant, but were denied access by the manager because the son was in "athletic" gear and did not meet their dress code.
The only problem with this is that there was another kid, with an almost identical outfit, eating at the restaurant with his parents. And as you may have guessed, that family was white.
You can see the white kid's outfit in the clip, and it looks remarkably similar to the black kid's clothes. I mean, it almost looks like this sh*t was staged. That's how similar their outfits were.
When the mom pointed this out to the manager, he could not provide her with clear reasoning behind his decision. He tried to make the claim that the other kid's t-shirt wasn't athletic, but it clearly was. Personally, I think the mom handled the situation extremely well. She was calm and made the manager look like a complete idiot.
The restaurant has announced that the manager has been placed on "indefinite leave" — they also claim to be sickened by the video.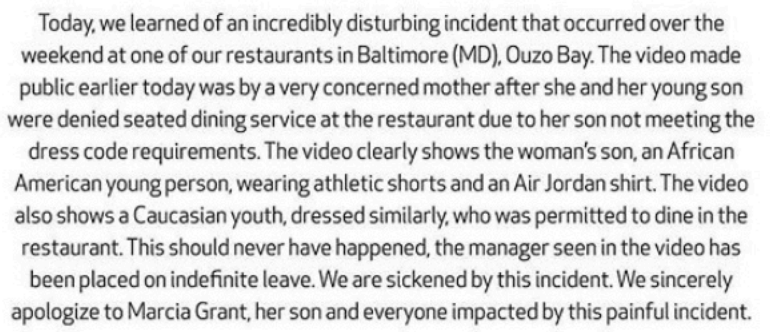 ---