Kanye West Is Teaming Up With Gap, Signs 10-Year Deal With The Company To Launch Yeezy Gap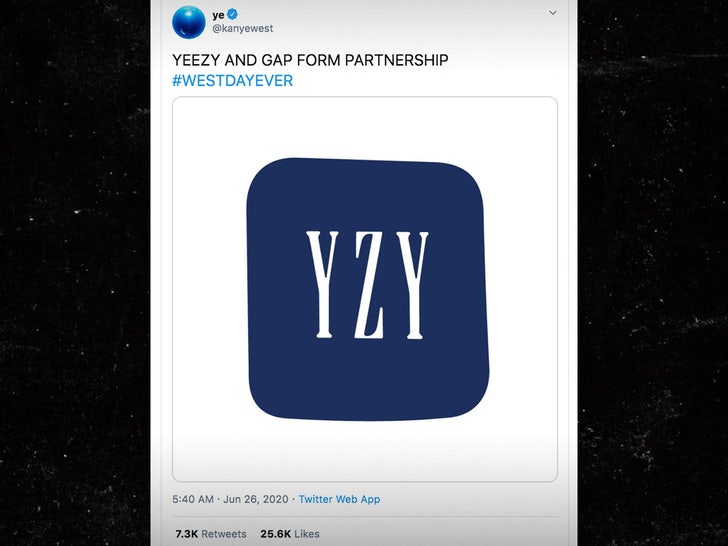 Some big news in Yeezy land. It was announced this week that Kanye West and his fashion company have agreed to a 10-year deal with Gap to launch a new clothing line called Yeezy Gap. What else would it be called?
The company released a statement revealing that West is developing a clothing line for men, women and children. It'll be sold in stores (if we ever open up again) and online, and according to the report, it will be affordable. Or wait, no they used the word "accessible" whatever the heck that means.
The mega retail deal reportedly starts this month and comes with the option to renew at the 5-year mark … at which point Gap expects YZY to be generating $1 BILLION in sales.
The retailer has been struggling lately, so they're obviously hoping this partnership saves their brand. It's Kanye or bust for them. Items in the Yeezy line will be available to purchase starting sometime in the first half of 2021.
This initial announcement has already proved to be beneficial for the company…
Shares were up by more than 31% in trading Friday. The move added more than $1.4 billion to Gap's market cap, pushing to more than $5 billion.
The details of the deal have not been disclosed, but Gap did say Yeezy will receive royalties and may receive equity depending on its sales.
We are excited to welcome Kanye back to the Gap family as a creative visionary, building on the aesthetic and success of his YEEZY brand and together defining a next-level retail partnership
Will you be purchasing Yeezy Gap clothing?
---