School In Arkansas Kicks Out 6-Year-Old Girl For Wearing 'Black Lives Matter' T-Shirt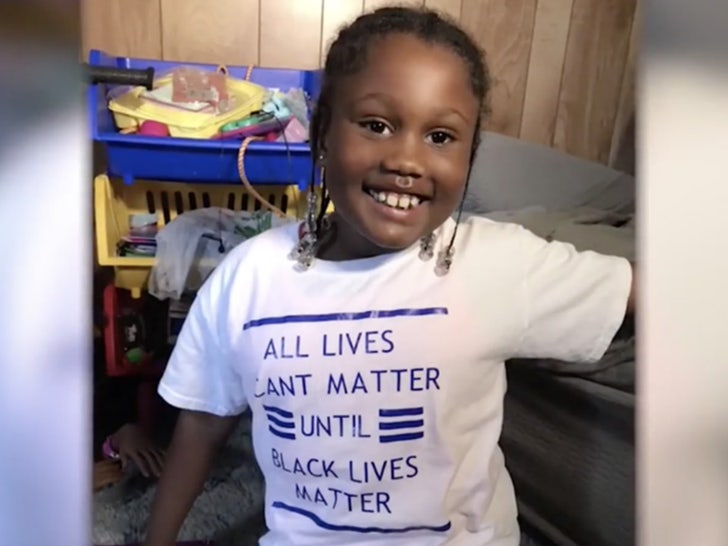 Salty white people across the country are still crying about the 'Black Lives Matter' movement. They try to claim it's a racist statement and that "all lives" matter.
But of course, Black Lives Matter, does NOT mean only black lives matter, or that black lives matter more. It just means black lives matter!
Of course, the people who are still saying the "all lives matter" bullsh*t just refuse to get it. They are intentionally missing the point because, well, they're racist and for some reason "black lives matter" makes them uncomfortable.
A 6-year-old named Journei Brockman from Arkansas was kicked out of her daycare recently because she wore a black lives matter t-shirt. She had been enrolled in the daycare for six months before the incident.
Her mom, Deval Brockman, told Fox16 she was contacted by an employee from the school who had issues with the shirt, saying she didn't like it. Brockman says she was told her daughter should not wear the shirt to school again.

Journei came to school a week ago, wearing a shirt with an image of a raised fist. Brockman says when she returned to pick up her daughter, she was told, Journei could not come back. Brockman says someone from the staff told her the shirt encouraged racism.
And get this, the school director contacted Deval directly and said, "I am not going to tell you how to raise your child, but you need to reevaluate how you're parenting her."
What in the f**k, right? Deval has filed a complaint with the state. She also told reporters the following…
If I'm supporting something, I'm going to wear it, my child is going to wear it, to help say that our voice needs to be heard.
Damn right. Don't let these Arkansas bumpkins get you down. Wear your BLM t-shirts, hats, pants, shoes, flags, bumper stickers. Make them see "black lives matter" in their dreams.
---