'Glee' Actress Naya Rivera Is Missing After Going On The Lake With Her 4-Year-Old Son, Massive Search Is Currently Underway
Some heartbreaking news to report, former 'Glee' actress Naya Rivera is presumed dead after reportedly drowning at a lake in California, and the details surrounding this incident are bizarre.
According to the report, Rivera took her 4-year-old son to Lake Piru in Ventura County on Wednesday evening, which already sounds odd to me. Perhaps it's something they did together regularly, but going out on a small boat by yourself and your 4-year-old son seems…strange.
About three hours after they left the dock, another boater discovered their boat just drifting. When the boater pulled closer, he discovered Rivera's son sleeping inside with a life jacket on. An adult life jacket was found on the boat as well.
The boat that Rivera rented — a pontoon boat with a deck cover — was found on the north end of the lake, Dyer said. Wind is often a factor in the area, he said. The lake is up to 40 feet deep, and the bottom has a lot of debris.

Law enforcement sources tell us her son, Josey Hollis Dorsey, told deputies his mom had jumped in the water … but didn't come back up.
No word on if the boy has provided more details, but this all sounds so bizarre. What could have happened to her? Obviously she knew how to swim, so did she hit her head on something under the water? They say there is a lot of debris, perhaps she hit her head on a limb?
Or she could have had some health emergency while in the water. Or you hate to speculate, but she could have been under the influence. Or perhaps this was some elaborate suicide. She could have tied herself down with weights? I have no idea.
Some people are suspecting foul play, which is a possibility, but it seems unlikely because you'd think her son would mention someone else being there. Again, maybe he has said something and they just haven't released it.
Just two days ago, Rivera posted this photo…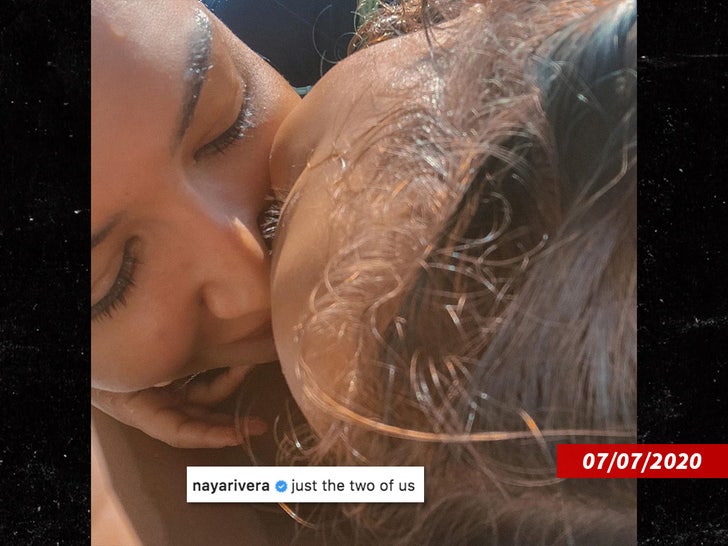 Authorities are currently searching the lake for Rivera's body.
Authorities are now saying they're treating the case as a possible drowning and they suspended the search overnight. The search continues at first light, but the Ventura County Sheriff says they now believe Naya may have lost her life in the lake. She went missing in water with only 5 to 9 inches of visibility, and authorities say the lake is filled with trees and debris on the bottom.
Our thoughts and prayers go out to her friends and family.
---