Joe Biden's Notes Suggest Kamala Harris May Be His Pick For Vice President (PHOTO)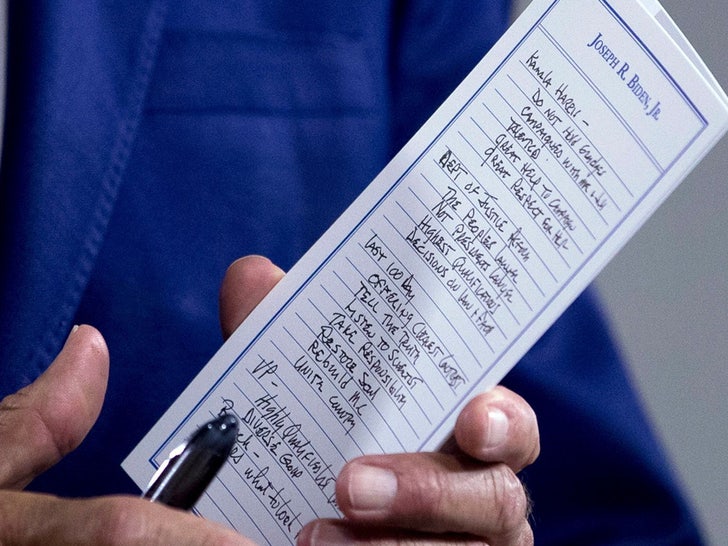 It's been months now, and still, Joe Biden has not revealed his pick for vice president. People have been waiting and waiting. The election is just a few months away now, so he needs to come forward with his selection soon.
And it looks like he's about ready to do that. While talking to reporters on Tuesday, a photographer got a closeup shot of Biden's notes, and at the top of his list? Kamala Harris.
The notes, which were photographed at a speech in Wilmington, Delaware, feature Harris' name followed by five talking points: 'Do not hold grudges,' 'Campaigned with me & Jill,' 'Talented,' 'Great help to campaign' and 'Great respect for her.'
The fact that her name was first on his list says something. First on list = most important. We all know this. If you make a shopping list, you're most likely going to have the thing you want most at the top. What's that thing for you? For me, it's bananas. I don't even like bananas that much, but it just feels like something you always need to have as an adult.
Anyway, if Biden does pick Kamala, it'll be a little surprising because some people in Biden's camp are still mad at her for how she attacked Joe in the debates.
There was talk early on that Biden would pick Harris if he got the nom, but lots of people thought that plan was 86'd after the Senator went after the former VP for his civil rights record during the first debate.

Chris Dodd, didn't like the fact Harris had 'no remorse' when confronted about the way she went after JB. Dodd reportedly considered her attack a cheap shot, and apparently wanted Harris to apologize for it or something, but she didn't. Her reported response, a chuckle and 'that's politics.'
It looks like they may have worked everything out though. Just a few days ago, Kamala posted the photo you see below to her Instagram account.
Certainly looks like she might be VP. What do you think? Would you support this pick?
---