Tiger Woods' 11-Year-Old Son Just Dominated A Junior Golf Tournament In Florida With Tiger Acting As His Caddy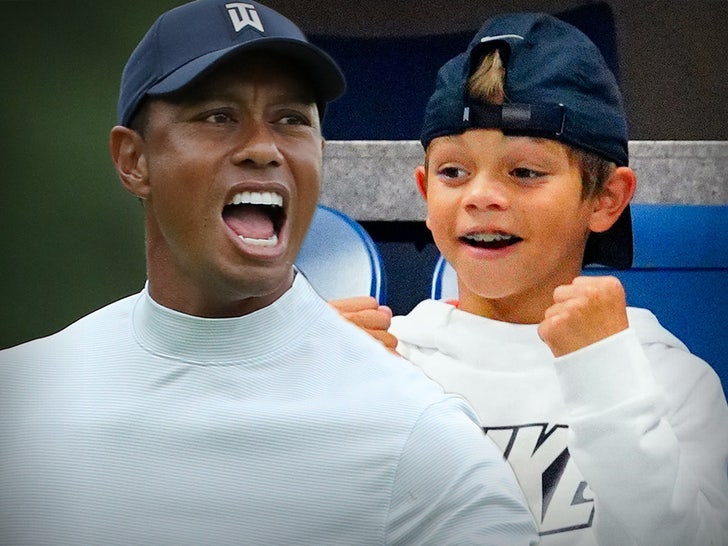 You might as well call Tiger Woods the 'Caddy Daddy' now because his 11-year-old son is set to take the golfing world by storm.
Woods' 11-year-old son, Charlie, participated in a US Kids Golf event in Florida this past weekend, and he absolutely dominated the competition.
Woods won the nine-hole tournament by five strokes, shooting a 3-under 33 to clear finish atop the field. Charlie had a clean round, tallying three birdies and no bogeys.
Charlie Woods mowed down some kids last weekend in a local US Kids Golf event in Florida. Shot 3-under 33 for 9 holes to win by 5! pic.twitter.com/d6hjL2aJWL

— Ryan Ballengee (@RyanBallengee) August 16, 2020
Charlie was the only player in the field to finish under par, so it was a pretty easy win for the kid. Tiger was with him every step of the way and even carried his clubs for him, which is pretty damn cool.
Back in early July, Tiger talked about his son's swing and how he's starting to ask the right questions about the game…
"I wish I had his move."@TigerWoods talks about coaching his son Charlie and what they're working on. Watch the full video: https://t.co/fMDSsqfkdZ pic.twitter.com/igqkP2v4Tn

— Golf Digest (@GolfDigest) July 10, 2020
As long as Tiger can keep the pressure off Charlie, who knows what might happen in the future.
Perhaps we're watching another legend in the making.
---