Maskless Idiots Rage On Elderly Woman And Restaurant Employee After Being Asked To Put On Mask (VIDEO)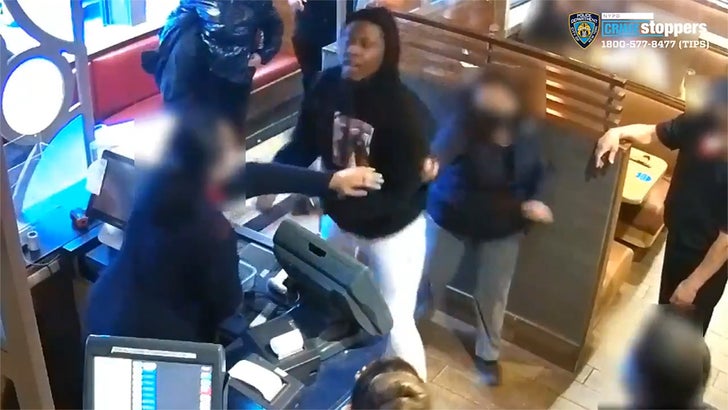 President Trump made mask wearing a political issue early on in this pandemic, which has created a bunch of fights and arguments across the country.
We've seen several people try to walk around stores without a mask on, only to throw a tantrum when asked to leave. For the most part, it's just been a lot of yelling and whining from these maskless idiots, but now it looks like they're getting violent.
We have two separate videos to show you today. The first clip is from a subway station in Brooklyn. According to the report, a 60-year-old woman tried to get a younger couple to put a mask on before they got in the elevator.
And as you can see, the couple did not like this.
Cops say she asked them to put on masks before they all got in the elevator together — but instead the guy knocked her over as he barged into the elevator. While she's down … both the guy and the girl strike her — looks like the guy punched her even after she was down on the ground.
Police say the suspects are between 16-20-years-old. They ran away from the scene before cops arrived. The elderly woman suffered bruises to her face and leg pain. NYPD is offering a reward up to $2,500 for tips leading to the suspect's arrest.
BUT THAT'S NOT ALL!
Another incident went down at an IHOP in Queens. Employees inside the restaurant asked a man to put on a mask, and as you can see from the video, he refused.
The video shows the guy who allegedly refused to put on a mask storm back into the IHOP and charge past a table and other waiting customers … apparently trying to get at someone off-camera.

While trying to get a hold of that person, the guy reaches over and grabs something from his friend — cops say it was a knife — and then chases some workers through the restaurant. Toward the end of the video, he actually swings at someone before booking it.
He swung at a 40-year-old female employee and sliced her arm open. The wound required stitches.
Cops are looking for the suspect involved in this case as well.
Sad sh*t. These restaurant and grocery store employees should be getting paid double right now with all the crazies they have to deal with. It's a dangerous job, and they're over here getting sliced and punched for just $10 an hour.
---