Uh-Oh! Trey Songz Arrested After Putting Cop In A Headlock At Chiefs Game! (VIDEO)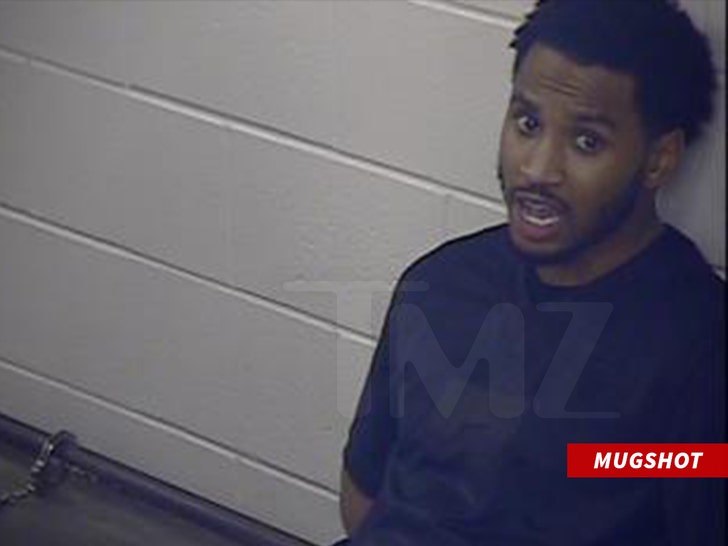 The Kansas City Chiefs had a fairly easy win against the Buffalo Bills last night to advance to Super Bowl 2021 against Tom Brady and the Bucs.
Trey Songz was watching the game from the stands at Arrowhead Stadium with his crew. And while it started out peaceful, at some point, a group of fans began to heckle him.
He apparently stood up and asked them to chill, although we're assuming he didn't ask that politely. That's when an officer approached him, and without warning, tried to take him down.
Trey didn't know what was going on and decided to fight back by taking a swing at the cop and putting him in a headlock, as you can see in the tense video below…
Eventually more officers arrived and they were able to arrest the 36-year-old singer/actor. He was arrested for trespassing, resisting arrest, and assaulting a police officer, which is a felony. He's on a 24-hour hold and will likely be released on Monday night.
But what's interesting is that you can hear people in the video say that the cop is the one who started sh*t. Several fans claim Trey didn't do anything wrong and the cop became aggressive for no reason.
Of course, we can't prove this because the video doesn't show the beginning of the altercation, but it certainly wouldn't shock us to hear that a power hungry cop tried to escalate a situation instead of de-escalate.
We're sure more will come out soon, especially once Trey is released from custody.
And just to play both sides here, Trey also has a history. He was charged with assaulting a police officer back in 2016 when he allegedly threw music equipment from the stage at officers after being told to end his set. He was also arrested in 2018 and charged with felony domestic violence after he allegedly punched a woman.
The case was later rejected by both the Los Angeles District Attorney and City Attorneys.
---