LeBron James Plays It Cool After "Courtside Karen" Gets Ejected For Heckling Him (VIDEO)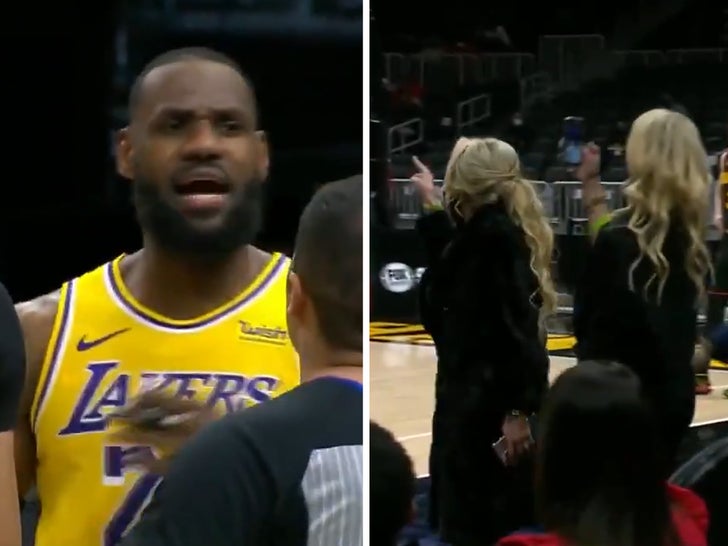 It's hard to mess with greatness and come out on top, and "Courtside Karen" learned that the hard way on Monday night when she tried to square off against LeBron James.
The woman's real name is Juliana Carlos. She's an Instagram model who is married to some rich sugar daddy named Chris Carlos.
This is them…
So they were sitting courtside at the Atlanta Hawks vs Los Angeles Lakers game on Monday night.
And during the game, Carlos got into a heated exchange with LeBron James. For some reason, Juliana decided to jump in the madness and started screaming at James as well.
She was cursing at him, yelling, flipping him off and even took down her mask to yell some more. It was so intense that play had to stop on the court and the woman had to be ejected.
The referees stopped the game after LeBron was heckled by a spectator in Atlanta. pic.twitter.com/apoDqvt4ll

— SportsCenter (@SportsCenter) February 2, 2021
Juliana claims she became super heated when LeBron yelled at her, "Sit the f**k down, b*tch," which checks out. Women don't like to be called a b*tch, so we can see why she flipped out. At the same time though, why didn't she sit down?
James was unbothered by the whole thing. If anything, it motivated him. The Lakers won the game, and afterwards, James spoke to the media about the incident.
Safe to say, he's happy fans are back in the building…
LeBron James on what happened courtside with the fan pic.twitter.com/S1kQdsCsbq

— Ben Stinar (@BenStinar) February 2, 2021
---