Michael B. Jordan Goes All Out To Surprise Lori Harvey On Valentine'$ Day!
If you haven't been following the life of Steve Harvey's stepdaughter, Lori Harvey, then you've been missing out. The 24-year-old model has an impressive dating history, including Future, Lewis Hamilton, Justin Combs, and even Diddy himself.
Her name has also been dropped in multiple rap tracks. Everyone wants a shot, but only one person is getting a shot right now, and that's Michael B. Jordan.
They started dating sometime during quarantine last year and celebrated their first Valentine's Day together this past Sunday.
And of course, Jordan went extra with it.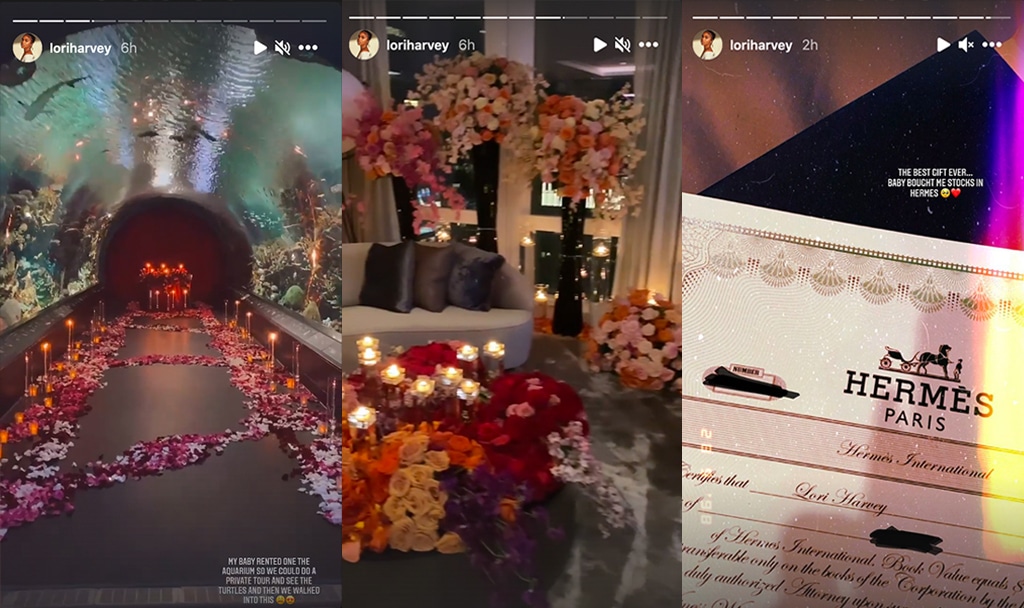 Jordan took Harvey to a private tour inside an aquarium, and after the tour, they ate a specially crafted multi-course dinner from Nobu inside a tunnel encased by a fish tank.
Harvey shared all this on her Instagram Stories.
The night had only just begun for the couple. Harvey also shared footage of inside what appeared to be a hotel suite, which had bouquets of flowers and lit candles everywhere she turned in the living room, as well as red rose arrangements and petals scattered throughout the bedroom and bathroom. 
Oh, and he also bought her stocks in Hermes, a French luxury goods manufacturer.
So to recap, he rented out an aquarium, had dinner inside a tunnel surrounded by fish, dropped thousands on some roses, and bought her stock!
Of course, it's not big deal for Jordan. He's got a net worth over $25 million, and that's only increasing by the minute.
Safe to say, Twitter was loving it, and they want Harvey's secrets…
The second and I mean the SECOND Lori Harvey writes her players handbook, I'm snatching that thing up like mfn hot cakes. pic.twitter.com/i1ItXq04Bc

— Gossip Girl ✨☕️🤍 (@xoraveen) February 15, 2021
Whatever yoni oil Lori Harvey is using, I need that! She got all these guys on LOCK 🤣🤣🤣🤣🤣

— Rianne Gelly (@riricouk) February 15, 2021
Michael B Jordan rented out a WHOLE AQUARIUM and gifted Lori Hermes stocks for Valentine's Day.
HERMES STOCKSSSSSSS!!!!!!!!!!!

Hey God, It's me again….😭😭😭 pic.twitter.com/pxZ0XMR734

— skyerenaee✨ (@skyerenaee1) February 15, 2021
Michael B Jordan bought Lori Harvey stock in Hermes 🤭 What is it about this babe that makes these men so eager to please her?! It's like they get with her and want to prove that they're better than the previous one 🙌🏾 pic.twitter.com/JqRSLqqIVB

— Adaora (@MsAdaO) February 15, 2021
---