Did Usher Really Tip Strippers With "Usher Bucks" That Have No Value In Real World?
There is a wild rumor spreading online that Usher went to a strip club and made it rain Usher Bucks, which have the same value as the bills in a game of Monopoly.
The rumor spread after a dancer going by the handle @beel0ove posted to her Instagram Stories. She posted a closeup shot of the Usher Bucks, which have his face printed on them.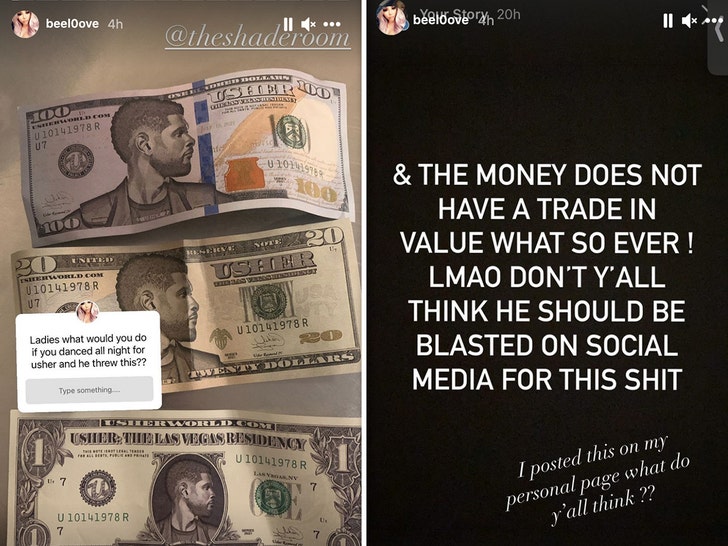 She then wrote, "Ladies what would you do if you danced all night for usher and he threw this??"
She also added, "Don't y'all think he should be blasted for this?" and she got her wish. People started slamming Usher online, posting all sorts of memes and sh*t.
Dancers when they find out they exclusively got paid in nothing but Usherbucks that night pic.twitter.com/ilppsBdxwM

— JAM (@mojoejoejoemtz) April 12, 2021
"Usher, they caught on to your Usher bucks" pic.twitter.com/2ZRcy2KXMz

— ShaundaVision (@Whatchamccaulit) April 12, 2021
So what really happened though? Is this story from the dancer 100% accurate? It looks like it's not.
According to the sources, this incident went down at Sapphire in Las Vegas. Insiders say Usher did not tip the dancers with his fake money. He reportedly dropped thousands of dollars there. Real dollars.
We're told Usher and co. ended up spending thousands on the dancers (REAL thousands, mind you) and also enjoyed bottle service … which he definitely didn't cover with these Usher bucks. It goes without saying … Sapphire tells us they'd love to host him again, anytime.
So where did those bucks come from? Well, someone in his crew reportedly left behind the money as a joke/promotion for Usher's new Vegas residency, which hey…I suppose the promo worked.
Not clear if the dancer who blasted Usher on social media knew he tipped with real money and was just trying to make him look bad, or if her co-workers took all the real bills and left behind the Usher Bucks for her.
Either way, it's a win for Usher.
---