Calm Down, So What Russell and Katy Aren't wearing their Rings.
I didn't think this was such a big deal but I've been wrong before.  In fact I've been wrong many times before.  First it was, Katy not wearing her ring, now it's like "NEITHER IS RUSSELL"!
Big Whoop I say.
Now toss in the fact that the two might have actually spent the holidays apart, and the fact that there are no funny little Tweets coming through telling everyone to relax, and all the tabloids are buzzing.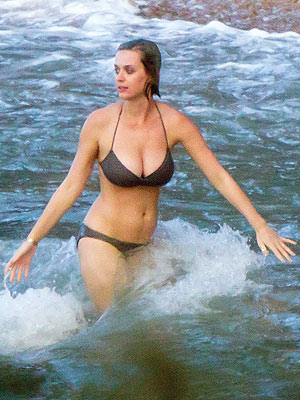 The 27 year old Katy spent her weekend in Hawaii in a private luxury villa, half naked.  There were no pictures of Russell anywhere around.  Then voila' Mr. Brand is seen in London without his wedding ring.
Just a few weeks ago, Russell was on Ellen where he put the rumors to bed.  He said that he's
Perpetually married to her
But then again, he is an actor.  D'oh.

We never like to see a break-up, but it's not as if you are going to swoop in and scoop up Katy Perry. It's not like the cute guy in finance broke up with his girlfriend and you can swoop in and start flirting.  These guys are superstars, so lets' just let the drama unfold shall we?

No conclusion jumping.  Promise?

-COSMO

[sam id="11″ codes="true"] [sam id="12″ codes="true"]
---