Ashton Kutcher Talks About Being A Father For The First Time, Admits He Is Super Dad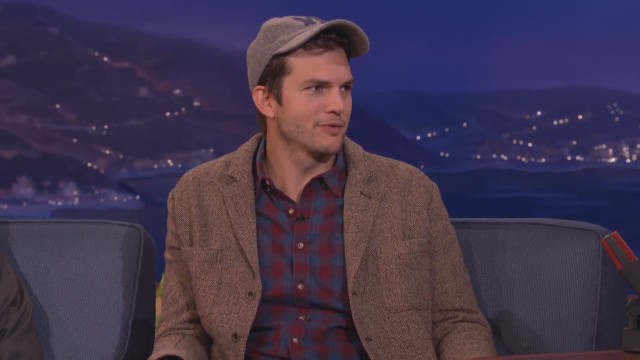 When you ask a couple how things are going just weeks after having their first child, the typical response is, "HOW DO YOU THINK IT'S GOING? IT'S F–KING HORRIBLE! CRYING, FECES, CRYING! I WANT TO SHOVE THIS MONSTER BACK INSIDE ME!"
But not for Ashton Kutcher and Mila Kunis. The 36-year-old actor talked with Conan O'Brien yesterday, and he explained just how much he is loving being a father.
"You had a baby 27 days ago. How are you holding up? Because I remember that early period. That's rough." Conan asked Kutcher, expecting the new father to talk about how difficult the experience has been.
"We're really privileged that we have time and can afford to take time. We don't have a nanny or a night nurse or anything. It's just the two of us. It's unbelievable. It's the greatest thing on earth. As soon as this child was born I immediately wanted to call my parents and just apologize because I never knew how much they loved me."
He then explained how he is doing everything possible to be little Wyatt Isabelle's hero…
"I have a personal 'I want to be a hero' ego thing. It fulfills all of that. Staying home for the first couple weeks, I've learned the little things that will calm the baby down. So, I feel like I'm a baby whisperer now. I like to give the baby to my friends and let it cry for a second and be like, 'Let me just take this.' Any sort of hero fantasy I have is completely satiated."
Dang. He's making this all sound so easy! Could it be that Ashton and Mila have figured out the secret to caring for a newborn? Probably not. Ashton Kutcher just seems like an extremely happy and positive person. I am sure he has faced the same struggles as every other new father.
But he keeps the positive attitude, and that is the only secret he's hiding. Maybe we should all try it sometime.
---