Ray J Beat up by his Girlfriend? Cracked Ribs, Torn ACL? Princess Love arrested? I say not True!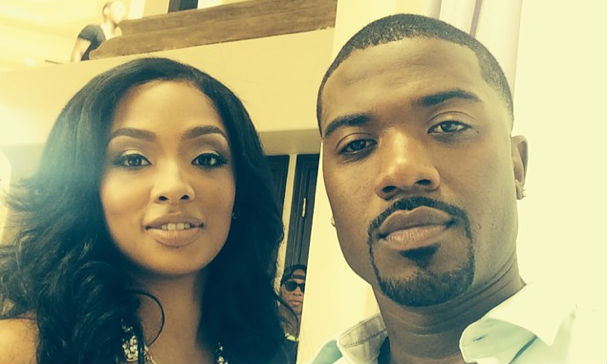 Of course the story comes from TMZ. They post it and everyone runs with it. Typically they are on point…not so much this time. At least I don't think so.
They allege that Ray J and his girlfriend Princess Love were both in New Orleans this past week. Wednesday night, he was at a strip club with TV producers and apparently stayed out a little too late for Princess' liking. When he arrived back to the hotel she attacked him. She reportedly hit him "Cracking several ribs, busting his lip open and tearing his ACL."   A security guard saw Ray J bleeding and called 911. They say that Princess was arrested and charged with domestic battery and was later bailed out by Ray J himself.
HERE IS WHERE I CALL BULL….
With social media, I always turn to the celebrities twitter/Instagram to see what is actually going on. When I went to Ray J's Instagram…he wasn't recovering from cracked ribs or a busted lip. He was bowling with Nelly and chilling in NY for All Star Weekend.
See for yourself:
SATURDAY FEB 14 – BOWLING WITH NELLY
SATURDAY IN ATLANTIC CITY – (His lip and ACL seem to be ok? )

CHILLIN WITH THE HOMIES

TAKING SELFIES IN ATLANTIC CITY
WITH LITTLE WAYNE AT THE ALL STAR FESTIVITIES IN NYC

CHILLIN IN HIS HOTEL ROOM IN NY MONDAY MORNING
I think you get the general idea.  We run an entire Celebrity Instagram trolling site, so of course we know what's going on.  However, for so many other media outlets to get this story and report it, somehow I feel like I'm missing something.  Perez, Gossip Cop, Miss Info……  We are just a 2.5 man show, these other sites have teams.  I'm sure I'm missing something.
I'm not sure what Ray J they are looking at but I will continue to find out what is wrong or right with this report.  Visit our Facebook for updates on this story.
Sources: Perez, Gossip Cop, Miss Info, bossip
---