50 Cent Facing Criminal Charges After Smacking A Woman In The Forehead With Mic At Concert
50 Cent performed at Crypto.com Arena in Los Angeles on Wednesday night as part of his 'Final Lap' tour, and the show had some major technical difficulties.
During his performance, he was handed several microphones that weren't working, and at one point, he snapped and hurled a broken mic to the side of the stage, striking a woman directly in the forehead.
Sources who were present tell TMZ … Fitty wasn't targeting the woman, but still, he beaned her good. A source connected to 50 says the woman wasn't supposed to be in the restricted area … but unlike the mic, that argument doesn't fly.
You can see photos of the woman below, and it certainly looks like the mic hit her gooooood. That's a nasty looking wound.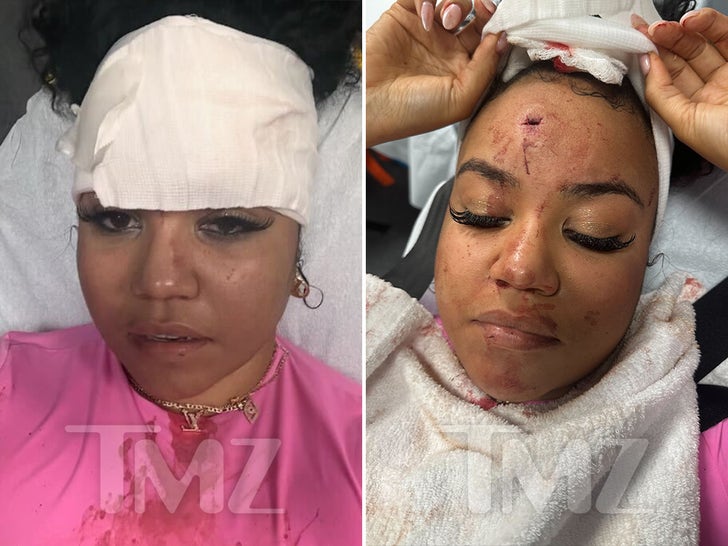 The woman filed a police report after the show on Wednesday night. She reportedly went to the hospital to get stitched up.
Law enforcement sources tell us … they believe 50 threw the mic at his crew in the production area and hit the victim. The victim told cops 50 looked directly at her before throwing the mic, so at least, according to her, 50 knew she was there.
50 hasn't commented on the incident, but he's now officially a suspect in criminal battery. I think it's unlikely he gets charged with anything, especially if she was indeed in a restricted area. She's going to have a hard time proving he hit her intentionally.
But still, if 50 was a decent dude, he'd apologize for the whole thing and give her some flowers or some sh*t. But maybe that's admitting fault.
---