Bianca La Russa is No Longer a Raidorette, Injuries Force An End to Her Career.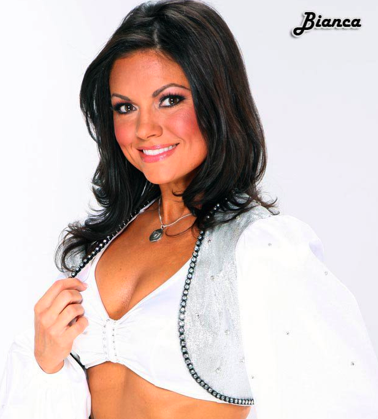 I guess things could be worse…at least she doesn't need surgery. Bianca La Russa, who is actually the daughter of Tony La Russa is no longer a Raiderette.
Earlier this year everyone was surprised when an article was released in the St. Louis Post Dispatch announcing that she maid the squad,
"La Russa's oldest daughter, Bianca Tai, surprised her dad and the family by trying out for the Oakland Raiders cheerleaders. And she made the squad. No surprise, given her extensive training and background in dance."
But before she could even cheer a regular season game we learned via twitter her career was in jeopardy.
@R8derM1ke I hurt my back pretty badly – herniated 3 discs. I'm out for the season.
Then as we suspected, that injury was too much to come back from.  La Russa's quick cheerleading career was over.
La Russa tweeted last night:
"I've had to stop dancing with the Raiderettes, due to degenerative disc disease & multiple bulging/herniated discs…so frustrating."

"While this is difficult & disappointing, to continue was risking permanent nerve damage. Sometimes ur goals are outmatched by ur limitations. On the positive side, at this point I don't need surgery… just lots of physical therapy and many check-ups with my orthopedic specialist."
This might be shocking to some, but cheerleading was named one of the most dangerous sports for women.  Cheerleading emergency room visits have increased almost sixfold over the past three decades. There were nearly 30,000 in 2008, according to the Consumer Product Safety Commission.

So before you go judging that guy in tights, recognize the danger.

Best of luck to Bianca, I'm sure she will land on her feet.  (Groan!)

-Cosmo

[sam id="11″ codes="true"] [sam id="12″ codes="true"]
---