Britney Spears Concerns Fans By Dancing With Knives On Instagram, But She Claims They're Not Real!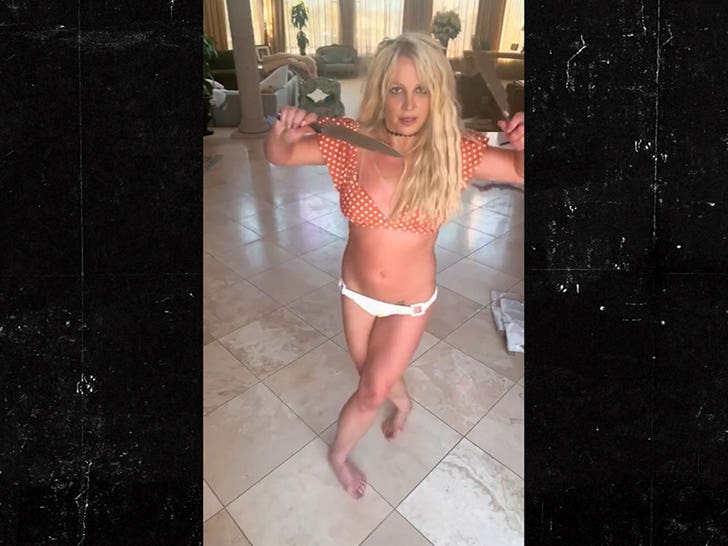 Apparently, Britney Spears has a knife fetish. According to TMZ, she's had a "years-long" fascination with knives. That's absolutely terrifying to hear because she's not exactly the most sane human on the planet.
And on Monday, she displayed her love for knives by dancing with them in a video posted to her wild Instagram account.
Spears posted the video Monday holding the razor-sharp blades with the caption, 'I started playing in the kitchen with knives today' while she rubbed and even clapped the blades together while dancing.
View this post on Instagram
As you can see, she later added in the caption that they weren't "real knives," but you can hear those things clanking against each other! They certainly sounded real.
And did you see her poor dogs on the floor behind her? When they heard those knives bang against each other, they bolted with the quickness, like, "Ah, sh*t. Mommas got the knives out again!"
TMZ claims Spears' fascination with knives started as a form of protection…
Multiple sources tell us Britney saw knives as a form of protection, afraid she'd be re-institutionalized. We're told Britney keeps knives all around her house — including in her bedroom — and one source said she, 'was paranoid someone was going to get her, and she needed the knives as protection.'
I can't speak for anyone else, but you won't find me entering that madhouse! BRITNEY GONNA SLICE YOU UP WHILE SHE'S DOING A F**KING PIROUETTE!
---