Taylor Swift Gets Cozy, Wraps Arm Around Travis Kelce In New Photo From After Party
The budding relationship between Taylor Swift and NFL star Travis Kelce has been one of the top headlines in the world for the past week now. It all started when Kelce professed his love for Swift and invited her to watch a game. Much to everyone's surprise, she accepted his offer and showed up to the game last Sunday in Kansas City.
She even shared a suite with his family and was spotted chest bumping his mother during a touchdown.
After the game, Kelce rented out a restaurant/bar for Swift, his family and teammates. And now we're seeing our first photos from the party, and in one snap, Swift looks very comfortable with Kelce, wrapping her arm around the back of his neck.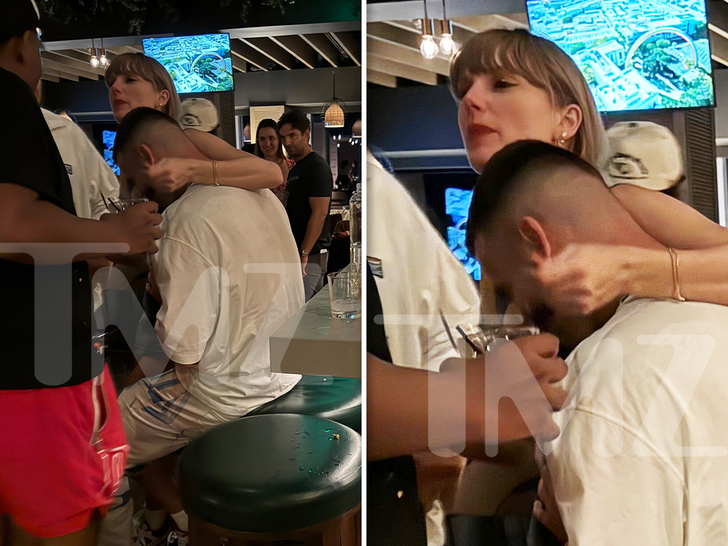 You don't typically do that with just a friend. That's a straight up girlfriend move right there. We're not saying they are officially dating, but it certainly looks like there is some smoke here.
TMZ reports:
As we first told you, Travis and Taylor's first rendezvous didn't come Sunday at the game … our sources say they've actually hung out several times, just in more intimate settings. Taylor's yet to say anything publicly about her situation with Kelce, but Travis spilled a bit Wednesday on his podcast 'New Heights' … calling T. Swift 'pretty ballsy' for showing up to the game and hanging with his mom.
Of course, ex-girlfriends of Kelce are already trying to ruin the relationship by warning Swift that he's a serial cheater.
What do you think? Is Kelce the prince charming Swift has been waiting for?
---