Big Boi's Lawyer Needs a New Defense!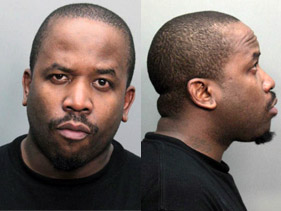 As Big Boi was joyfully tweeting about being "Fresh Out",  further details of his arrest were released contradicting his lawyer, Daniel Kane's previous statement,
"While Big Boi was traveling with his group and friends, a small amount of contraband was found in the collective luggage. I am confident when the entire facts are aired, Big Boi will be completely exonerated."
As more details were released, it was discovered that the drugs were found in a pat down.  Yep.  Not the luggage! There goes that defense. Remember guys, your lawyer can only successfully defend if he's provided the truth.  If not, you and him will look like fools.
Fresh from the details of the Miami-Dade Police report
"The pat-down revealed 5.7 grams of MDMA in powder form, 3 pills of suspect ecstacy, 9 whole pills of Viagra and 2 [half-pills] of Viagra, and a cigarette roller with suspect marijuana residue."
That'll do it. Book 'em Dan-O.

Time to release another statement because the one from yesterday is broken.

-Capp

[sam id="5″ codes="true"] [sam id="7″ codes="true"]
---