Oprah Tweets Praise for Microsoft's Surface Tablet on Her Ipad. (Also see 2012's Favorite Things)
Sunday night Oprah brought back the show about her favorite things.  You know the one where she gushes over things that she loves right before giving them all away to everyone in the audience.  This year was a little different because instead of the normal studio audience, she treated a select group of army wives.
In the midst of yelling, chanting and screaming  Oprah gave props to the newest Microsoft Tablet called the surface.   Quick to share anything and everything with the world, Oprah took to twitter,
"Tweet, Tweet, Tweet" in my Oprah voice.  (I hate when she says that).
She bragged about already buying 8 of the Surface tablets.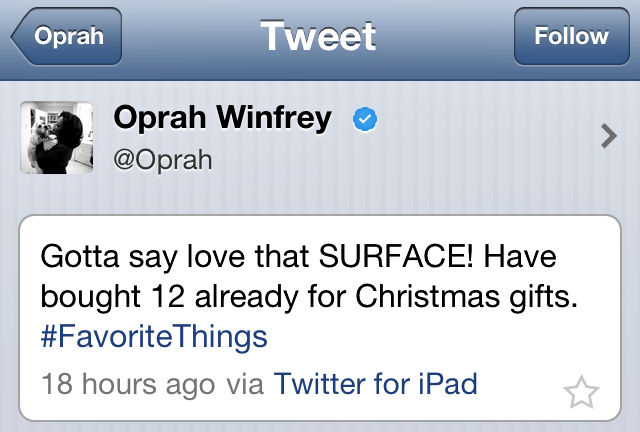 If you look closely at the message, it says the message was posted "via Twitter for iPad".  Oops!
That's like telling me how good McDonald's is while you are eating a Whopper.
Although Microsoft admits they don't have an official Twitter App  yet for the Surface, there is nothing stopping Oprah from going to twitter.com and typing in her tweet the old school way.  This just proves that no matter how good she thinks the Microsoft Surface is, she is still using her Ipad.
Oops!
Microsoft has had a tough time trying to gain ground on the Apple's  Ipad.  The Surface is priced the same as the lowest model Ipad but negative press mixed with the resignation of Steven Sinofsky has made Microsoft's job that much [more…]harder.  (Who is Steven Sinofsky?  Just the head of Microsoft's Windows division, who decided to resign smack dab in the middle of the Windows 8 release! )
Maybe Oprah can by a few 1000 surface tablets to make up for her blunder.  With a net worth of $2.7 Billion that would be literally a drop in the bucket.
 FYI: Here is the full list of Oprah's favorite things for 2012:
Lafco Soap Set $238
Octane Fitness Q37ci Elliptical Trainer $3099
Jetson E-Bike $1800
Giro Sport Design Reverb Helmet $60
H2O+ Marine Spa Gift Set $122
Ralph Lauren Cable V-Neck Sweater $198
Coach Puffers $458
Bougainvillea Bangles  $39
Tory Burch Michelle Tote $395
Julep Nail Polish Set $168
Tusk Capri Double Zip Checkbook Clutch $138
India Hicks Diamond Necklace $370
R. Nichols Candles $45
Harry Barker Pet Canister and Bowl $56
Bose VideoWave II $4999
Macy's Hotel Collection Bedding $80 to $360
Tempur-Cloud Supreme Mattress $269
Dyson Pedestal Fan $450
Tom Ford Beauty Lipstick $192
Michael Kors Glam Studded High Tops $195
Corkcicle$25
Microsoft Surface Tablet $499
Beats by Dr. Dre Powerbeats $150
Wagging Tail Custom Portrait Cards $229
Noel by Josh Groban $10
Rowallan of Scotland Jewelry Box $525
Curtis Stone Kitchen Solutions Oil Can $60
Classic Coffee & Tea by Yedi $20
Edward Bess Perfume $125
P.Jamas Back Home Pajama Set $160
Schmidt Brothers Bonded Teak Series Knife Set $400
Swing Design Tray and Boxes $70 to $120
Lancer Skincare Luxury Collection $250
Earth Balance Gift Pack $15
Wakaya Perfection Organic Ginger Powder $24
Brooklyn Piggies Gourmet Pigs in Blankets $85
Pipcorn Holiday Crate$88
Mel & Rose Moscow Mule Kit $145
Carousel Cakes Blue Velvet Cake $42
Bellocq Tea Atelier Chai Gift Se $85
Casa Dragones Sipping Tequila $275
Sallie's Greatest Trio Jam Pack $36
Dark Secret Chocolates $68
Milagro Select Barrel Reserve Silver Tequila $52
Trufa Seca Black Truffle Sausage $50
Urbani Truffle Butter $21 – $39
Sabbatino & Co. Truffle Oils $26 to $80
TartufLanghe Truffle Risotto, Pasta and Breadsticks $8 to $27
Cypress Grove Chevre Truffle Tremor Cheese $19 for 12 ounces
THESE ITEMS WERE FOR THE MILITARY WIVES ONLY:
Fiji Island Paradise Getaway at Namale Resort and Spa
Scrabble HD
Reed & Barton Silver Link Picture Frames
Jack Rogers Georgica Jelly Sandals
Macy's Hotel Collection MicroCotton Towels
Gemvara Naked Cushion Triple Earrings
Nespresso Lattissima
Jessica Simpson Collection Shoes
Movado Bold Watch
Deux Lux Anais Weekend Satchel
---