The Rock Has Emergency Surgery
Dwanye Johnson better known as simply, 'The Rock' had to have emergency surgery Monday to fix severe injuries he suffered in the wrestling ring. The injuries happened during his wrestling match with John Cena back on April 7. It was a pretty big match, considering he was defending his WWE Champion Title. However things didn't go really well for The Rock that night. Not only did he lose the match, he also suffered a torn abdomen and abductor muscles.
Back on Sunday, The Rock announced the bad news on Twitter,
Saw my Dr who had to push my intestines back thru the tear in my abdomen. Kinda romantic. Surgery is next week. #BringItOn

— Dwayne Johnson (@TheRock) April 21, 2013
The emergency surgery ended up going down Monday night, which caused The Rock to miss the Los Angeles premiere of his new movie, "Pain & Gain". The director of the film, Michael Bay, sent him some lighthearted well wishes from the red carpet,
"Dwayne's hurt tonight. He was pushing it too hard. (He) needs to grow up and stop wrestling 300-pound men."
Oh, and if you're wondering how the surgery went, Dwayne updated everyone on his condition yesterday,
Surgery a success! Dr repaired 3 hernial tears (fun pain). Superman is on the mend.. #WeFallWeRise pic.twitter.com/VnLUVVdkFV

— Dwayne Johnson (@TheRock) April 23, 2013
Well, I'm glad the surgery was a success! However, Michael Bay does have a point, why is The Rock still wrestling? I didn't even know people still watched that stuff anymore. He's well established in Hollywood now, he doesn't need to do that whole wrestling thing.
With The Rock's net worth being estimated at $70 million and hitting the ripe old age of 40, it might be time to hang up the wrestling trunks.
Here is how he got injured…..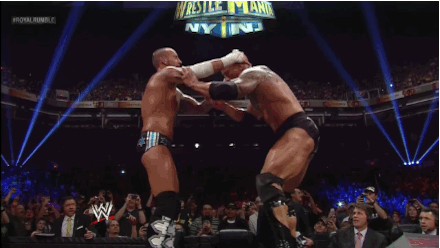 [more…]
---