Mike Tyson Crashes Wedding
Just a few days after he admitted to being on the "verge of  dying" boxing legend Mike Tyson was spotted in Verona, New York.
It is believed Mike was up in New York for his promotional fight card, which features boxers from his, "Iron Mike Productions." However, it just so happened that Mike Tyson made a surprise guest appearance at a stranger's wedding!
In what looks like a mash-up scene between Bridesmaids and The Hangover, you can see the boxing great posing for a photo with the happily married couple down below.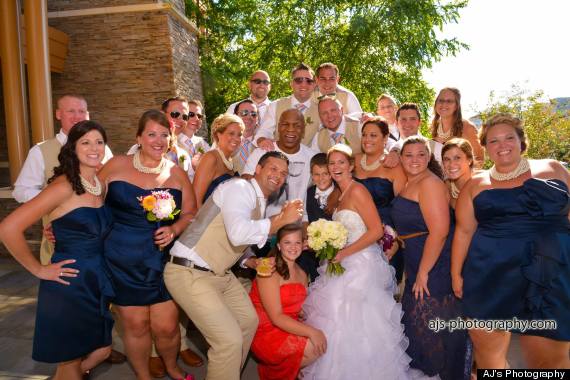 The groom in the photo claims that Mr. Tyson posed for several photographs, congratulated him and his bride and he notes that he was "extremely nice." He didn't say anything about how many bridesmaids he took back to his hotel room, but we're just going to assume he took back all of them.

Hopefully Mike was able to stay sober, since he was around a Casino and all. I'm not sure if that's the right place for a recovering alcoholic to be, but who am I to tell Mike Tyson what to do? He could kick my ass just by pointing at me.

[more…]
---