Taylor Swift Says She Finds It "Relatively Easy" To Keep Her Clothes On In New Interview
The March issue of Glamour magazine is all about 24-year-old country music superstar, Taylor Swift. The singer talked with the magazine, posed for photos and revealed why we never see her bony butt naked!
"I find it relatively easy to keep my clothes on because I don't really feel like taking them off. It's not an urge I have." She told the magazine, perhaps, unintentionally revealing the reason why she can never keep a boyfriend.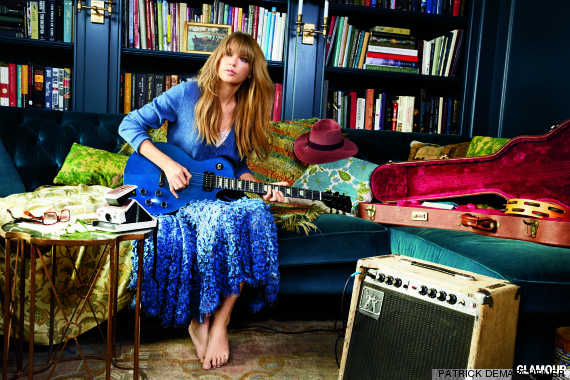 She went on to explain that she finds "confessional songs" more risky than getting naked for the cover of a magazine,
"For me 'risky' is revealing what really happened in my life through music. Risky is writing confessional songs and telling the true story about a person with enough details so everyone knows who that person is. That's putting myself out there, maybe even more than taking my shirt off."
[more…]

I'm not sure if "risky" is the word we're looking for, Swift. I think taking off your clothes and writing about every single relationship you have ever had in your life both qualify as "needy."

She also gave the readers of the magazine some relationship advice, because no one knows relationships like Taylor Swift.
"I think everyone should approach relationships from the perspective of playing it straight and giving someone the benefit of the doubt. Until he establishes that this is a game. And if it's a game, you need to win. The best thing to do is just walk away from the table."
That's actually pretty good advice, but it would have sounded a lot better if she had her clothes off when she said it…
I know I am, but thanks for the reassurance Oprah. It really helps my neediness.
---