Miley Cyrus Continues Raunchy Tour By Making Out With Katy Perry (PHOTOS)
After only three shows deep into her Bangerz Tour, Miley Cyrus was already out of ideas to shock the world with. She already gave a Bill Clinton impersonator head on stage. She already touched her lady area several times. She already slapped some overworked midget's a** multiple times.
So when Miley Cyrus entered the Staples Center Saturday night for her fourth tour stop, she knew she had to do something special. And when she noticed devil worshiper Katy Perry in the front row, she knew exactly what that special something was.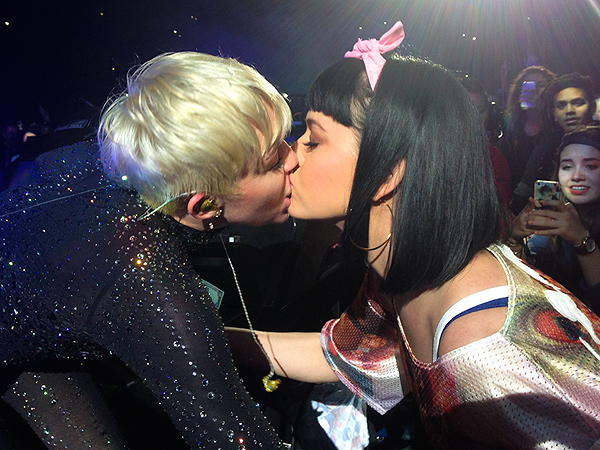 Nothing beats two straight women kissing for attention, huh? We can only hope they committed to their performance by adding a little bit of tongue.

The photo you see above was posted on Twitter and it has since went viral. And even though it does look like both women were enjoying the kiss. A photo Katy Perry posted on Twitter shows that she might not have enjoyed it as much as Miley Cyrus did.

[more…]
Oh, snap! Katy Perry looks disgusted, right? But before you Miley Cyrus fans send Katy Perry threatening messages on Twitter, we should tell you that she was just playing.
"And after! I adore you @Miley Cyrus." The 29-year-old singer captioned the photo. The truth is, Katy Perry seems to enjoy kissing people who have had hundreds of sex partners.
---