Is That Harrison Ford in a Wheel Chair?
In case you didn't realize it, Harrison Ford is 71 years old.
Yes he is Han Solo, he is Indiana Jones, and he will be Max Drummer in Expendables 3 not to mention he's been tappin' Ally McBeal (Calista Flockhart) who is 22 years his junior for many years now….but he is still 71.
At 71 anything can happen, although a rich 71 year old is much more durable than my Na Na.
SO WHAT HAPPENED TO HARRISON FORD?
His ankle was crushed by the door of the Millennium Falcon during the filming of Star Wars. During the film, he will be piloting this faux spacecraft and reports are that the hydraulic door of the ship collapsed on top of him. After the accident he was airlifted from the filming location of Pinewood Studios to John Radcliffe Hospital in London where he has undergone surgery. [more…]
Hmmm…airlifted for a broken ankle? Some reports are that his injuries are worse than being reported.
His rep released a statement,
His surgery was successful and he will begin rehab shortly
Duh! Thanks for that.
Not much of a statement but not really a big story either. This will be the first Star Wars film released under the Disney brand so they will do everything they can to still hit the release date of Dec. 18, 2015.
Ford who says that he does his own stunts ala Jackie Chan, has pulled muscles and damaged a disk in his back but this might be his most serious injury yet. Flockhart has also taken a flight to join her hubby for a little TLC. The two just celebrated their 4 year wedding anniversary.
With a net worth of $210 million and a list of movies longer than Shaq's…..finger, when I asked Harrison when he'd be back on set, he was like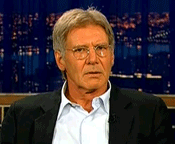 ….although reports state that he should be back on set in about eight weeks.
---