Iggy Azalea Is In Some Weird Feud With Papa John's Pizza, Find Out Why She's Pissed Inside!
Yeah, Kanye West's rant about Beck's Album of the Year award is what everyone is talking about, but Iggy Azalea also had her own drama going on last night. But this drama didn't have anything to do with the Grammys. The 24-year-old singer threatened to take legal action against Papa John's Pizza.
Just days before she walked the Grammys red carpet, she was apparently eating some delicious pizza. But sadly, that doughy creation cost the singer her privacy. According to a series of tweets she posted yesterday, a Papa John's delivery driver gave out her phone number to his family members. She posted the screenshot you see down below of a text she received from the sister of the driver…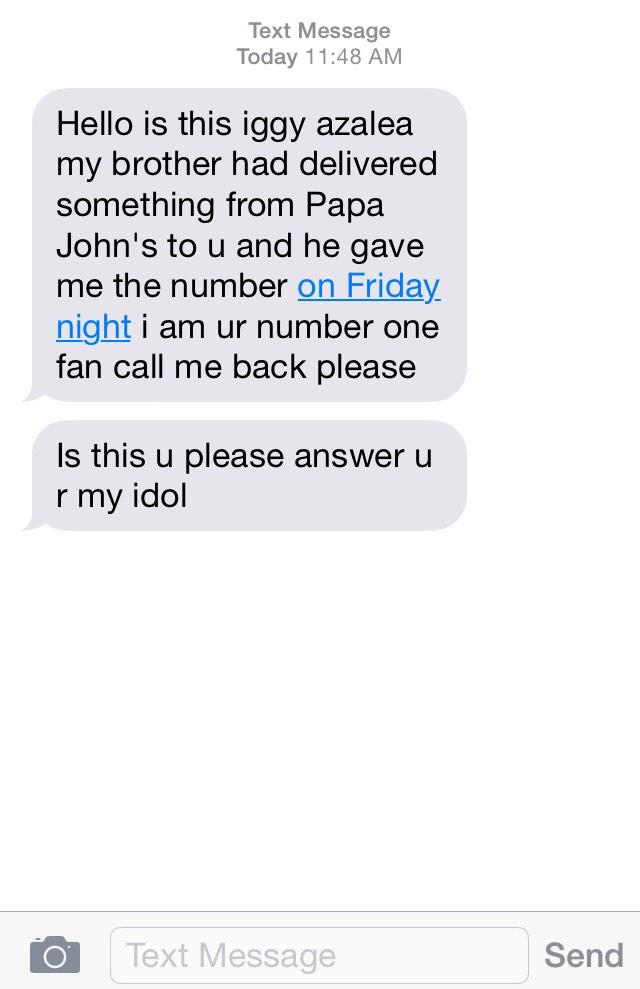 She tweeted the image to the company's Twitter (@PapaJohns), claiming that she received "tons" of calls and messages just like the one you see above. She then posted the manager's response to her complaint, and it's clear Iggy wasn't happy with the manger's response.
But wait, there's more! The person in control of the company's Twitter account tried to smooth things over with Iggy by sending out an apology tweet; however, as you can see from the exchange below, Iggy wasn't ready to make nice.
Damn! She don't play, huh? It's nice to know privacy is such an important issue for her. We only wish she was this passionate about racism, then we might actually feel sorry for her.
---