Family Holds Vigil For Bobbi Kristina Brown, Continues To Ask For Your Prayers
If you believe in the power of prayer, then Bobbi Kristina Brown's family would like your help. Family members of the 21-year-old, who remains on life support, came together at the Riverdale Town Center Amphitheater in Georgia last night to hold a candlelight vigil for Bobbi Kristina.
Family, friends, and even some fans showed up to send their love and prayers. The event started at 7 p.m. and reportedly lasted for a little over an hour. The mayor of Riverdale, Evelyn Wynn-Dixon, stopped by to show her support. In total, almost 300 people showed up for the vigil, which included lots of tears, songs, and prayers.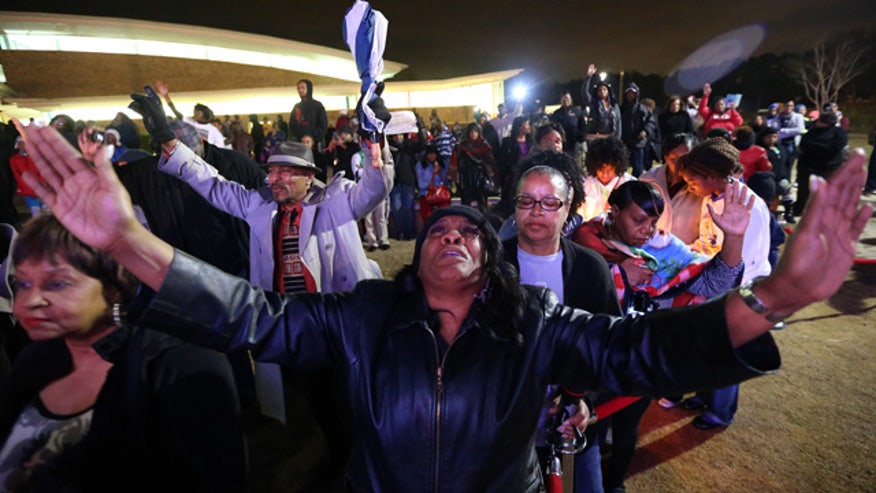 Uncle Tommy Brown spoke to reporters, urging everyone to keep the prayers coming…
We're getting through it, and we're gonna get through it. Just keep your prayers up for Bobbi Kris.
Pastor Dukes told the large crowd that Bobbi Kristina will be okay no matter the outcome is.
We aren't here just to yell, 'Wake Up!' Because God is holding her right now, whether she wakes up her not, God has her and she's going to be good either way.
That is tough to hear. It certainly sounds like the family is planning for the worst. It's such a terrible situation. We have to remember that she is just 21-years-old! Right now, all anyone can hope for is a miracle.
Meanwhile, a family source told CNN there are still suspicious injuries on Bobbi Kristina's body that need to be explained. The source didn't say what those injuries were, but a lot of fingers seem to be pointing at Nick Gordon. But again, this information has not been confirmed.
We will continue to keep you updated.
---