American Idol 2015 Recap: Who Made The Top 5? Find Out Inside!
We are back for another two-hour episode of American Idol. Tonight's episode was probably the most important night for the remaining Idol contestants. As most of you know, the all-important Idol summer tour will only have room for the top five contestants this season, which means one of your favorites from the top 6 didn't make it.
Who was it? I'll tell you in a minute. But first, let's talk about some of the performances from tonight. The theme tonight was 'arena anthems' and the contestants brought their A-game tonight.
Jax started off the night with a strong performance of Are You Gonna Be My Girl. It certainly wasn't her strongest performance of the night, but it was a great way to open the show. And then Nick Fradiani followed with maybe one of his best performances? Singing Maroon 5's Harder to Breathe, it was the perfect song for him. As Harry said, that's the music he should be making.
And then Clark Beckham showed up to slow everything waaay down with Yesterday. As always, his voice was magical, but after the first two performances, my mind wasn't ready for the change of pace. I didn't enjoy it as much as I should have. In his second performance, he tried out Justin Bieber's Boyfriend, and it was a little bit awkward. I actually liked Justin Bieber's version more.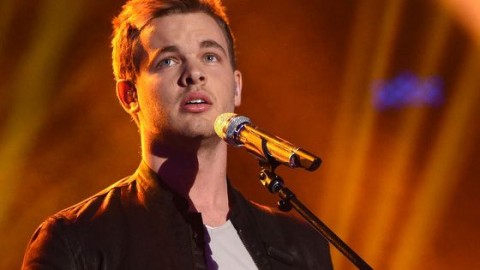 Tyanna Jones surprised everyone (at least me) with Party in the USA. I hate this song. Gary Busey could sing this song while jumping on a trampoline in nothing but a thong, and I'd still hate this song. So, I don't think I can accurately critique her performance. The judges seemed to enjoy it, though.
Have you been paying attention? If so, then you've already figured out the bottom two: Rayvon Owen (again!) and Quentin Alexander.
Not a shocking bottom two at all. Quentin's argument with Harry last week obviously hurt him.
THE BOTTOM TWO
Both Quentin and Rayvon performed two songs tonight. Quentin was the first to perform, and his rendition of Light My Fire was extremely cool, but how did it match up to another Rayvon ballad? Well, I guess it depends on who you ask. You ask the girls in the audience and the judges, Rayvon clearly won the first round.
But what about the second round? Quentin took on Florence + The Machine's Shake It Out, and it was one of my favorite performances of his. You all know I am a huge Quentin fan, so I enjoy almost everything he does on stage.
Rayvon decided to speed things up (finally) with Go Your Own Way. The audience went crazy because he nailed a big note at the end of his performance. It was obvious from the start that Rayvon would be saved again, and that's exactly what happened.
I don't get it. As I have said before, there is just nothing about him that excites me. This was the important Idol tour week! Would the fans really want to see live Rayvon more than live Quentin? I guess the answer is yes.
Oh well. Hopefully Quentin is able to release an album soon. I'd be the first in line to buy it.
YOUR TOP FIVE
Rayvon Owen
Jax
Clark Beckham
Nick Fradiani
Tyanna Jones
---