Is Adam Sandler A Sexist Pig? Rose McGowan Seems To Think So, Find Out Why Inside!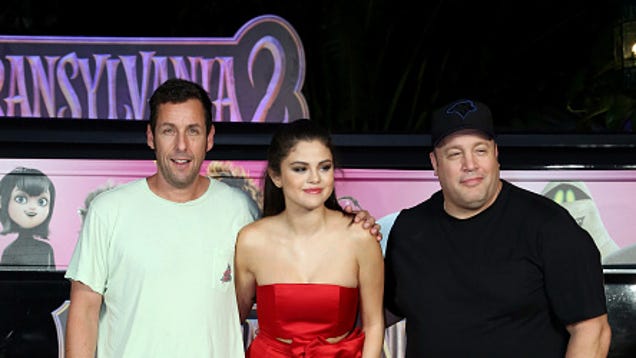 For several years, everyone seemed to love Adam Sandler. He made us laugh and even made us cry with a few of his more serious roles. However, here lately his films have started to go downhill. Instead of putting out smart comedy films, he's simply relying on ridiculous situations and stereotypes.
And now that he's no longer making people laugh, the people have started to turn on him. The criticism started when the 48-year-old comedian showed up to a recent photocall for Transylvania 2 wearing sweatpants, while his co-star Selena Gomez was dressed in a beautiful, silky red two-piece set.
Kevin James doesn't look much better, by the way. Do you see those shoes? WHAT ARE THOSE? AND WHY ARE THEY ON HIS FEET?
A lot of people see this photo and think, "Sexism in Hollywood!" And that certainly may be the case. I don't know the details behind this particular event, so I can't confirm this. However, it seems like we can confirm that Adam and Kevin don't give a f–k about their health. And I am not saying that just to "talk smack." I actually like Kevin James. I'm not afraid to admit my love for The King of Queens, but come on! At least pretend like you want to live a long and healthy life.
Anyway, let's get to this Adam Sandler casting call situation. Actress Rose McGowan went on her Twitter account and publicly shamed Sandler after receiving the casting notes for a potential new project.
Check it out below…
Of course, this isn't the first time Madam Panhandler has upset a group of people. Back in April, a Netflix spokesperson had to release a statement after several Native American actors walked off the Ridiculous 6 set, saying they were offended by the movie's stereotypical subject matter.
Netflix released the following statement…
The movie has ridiculous in the title for a reason: because it is ridiculous. It is a broad satire of Western movies and the stereotypes they popularized, featuring a diverse cast that is not only part of—but in on—the joke.
---