Sha'Carri Richardson Could Be Cashing In On Olympics Debacle, Gets $250k Offer From Vape Company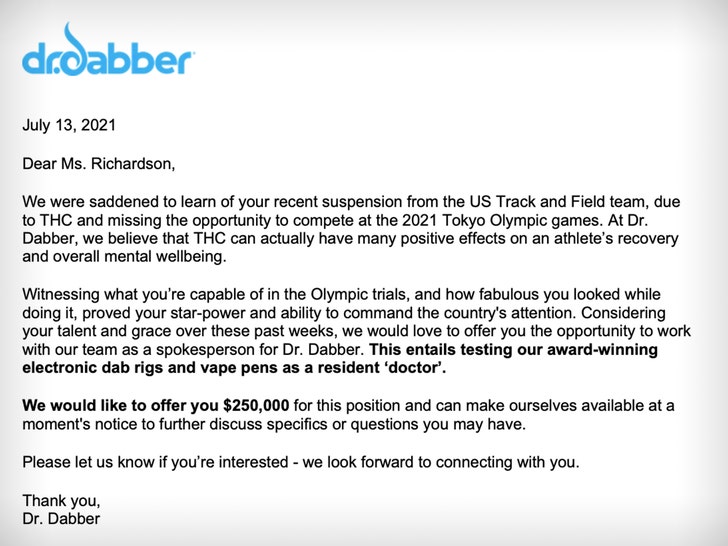 We all know Sha'Carri Richardson should be competing in the Olympics this year. She had a real shot at bringing home the gold medal for the US. She EARNED her spot on the team.
But unfortunately, due to outdated rules regarding marijuana, she was suspended for 30 days and forced off the track & field team.
And while we're sure she's super disappointed, she might be able to profit from this.
The folks at Dr. Dabber, a vaping organization in all things weed, have made a generous offer to Richardson.
They're offering her $250,000 to become a brand ambassador.
Considering your talent and grace over these past weeks, we would love to offer you the opportunity to work with our team as a spokesperson for Dr. Dabber. This entails testing our award-winning dab rigs and vape pens as a resident 'doctor.'
No word on how long the partnership would be for, but we're sure some lawyers could help Richardson figure all that out.
We'll see if she accepts the offer. I suppose she'll have to consider if it'll put her in a bad position with the US Olympics. It seems like such a silly thing, but then again, being suspended for smoking weed also sounds silly.
$250k is a lot of money for a 21-year-old. It'll be hard to turn down, unless of course she's being offered multiple deals. Who knows, $250k to her might be an insulting offer right now.
---