Kourtney Kardashian Is Nearly Nude In Bathroom Photo With Travis Barker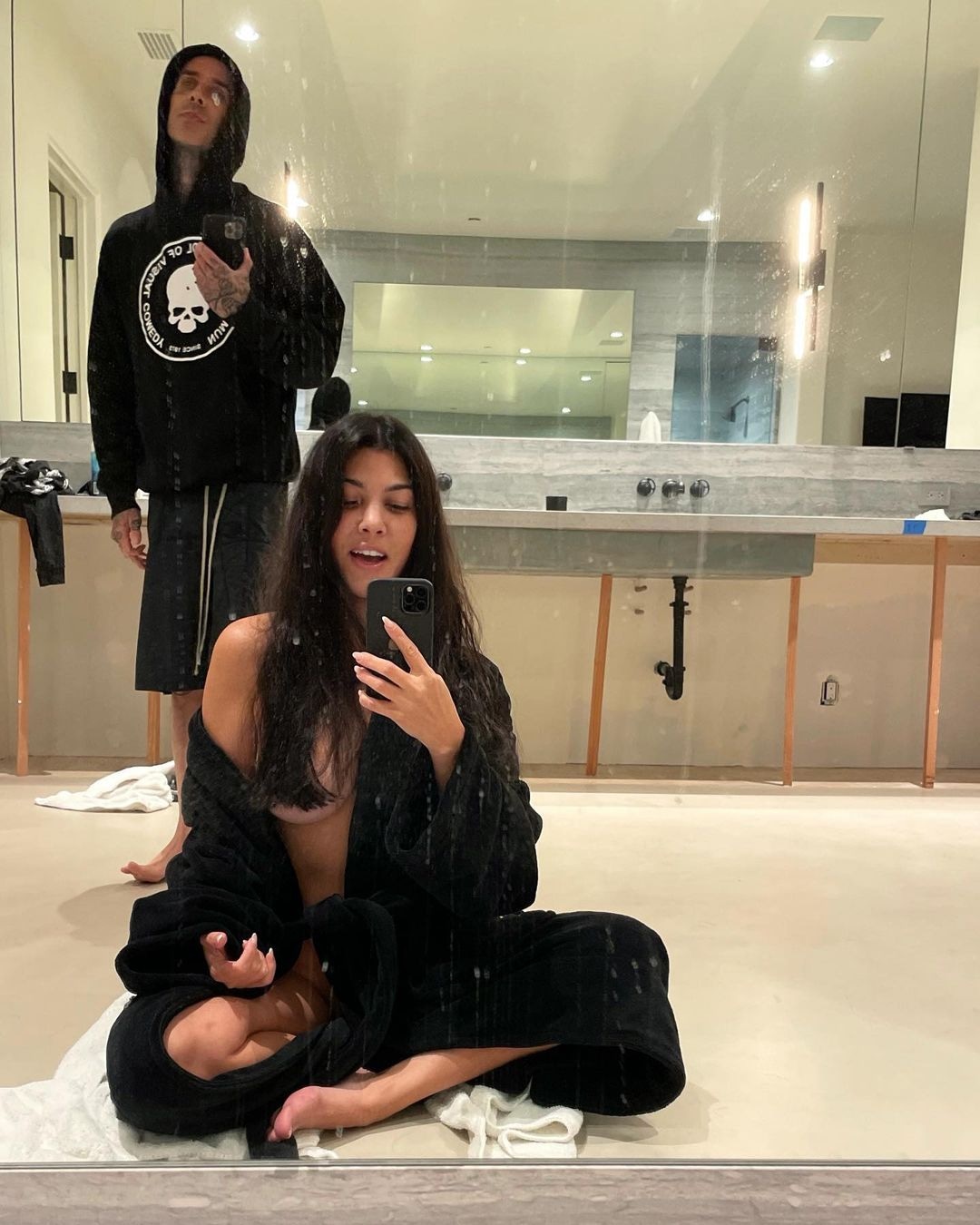 Look away, Scott Disick! Kourtney Kardashian and Travis Barker are still very much in love, and they're still very much sharing steamy photos all over social media.
On Wednesday, the 42-year-old reality star jumped on her Instagram account to share a carousel of photos, including one nearly nude photo of her sitting in the bathroom with Barker standing behind her.
She captioned the photos, "Ten days of quarantine…" but she did not say why they were quarantining. We're assuming they were exposed to COVID-19, but obviously we don't know that for sure.
Additionally, it's unclear when exactly Kourtney took this selfie of her hair covering her breast, although it seems likely to have been taken at the time that Travis recently cut her hair. On July 30, she shared an image to her Instagram Story of her shorn locks laying on the ground, adding the message, 'haircuts by @travisbarker.' She included this same photo in her new carousel. 
As you can see in the photo, Barker looks to be taking a photo as well, so who knows what other shots came out of the bathroom that night.
The couple first began sharing their growing relationship in January. Us Weekly confirmed that the duo were officially dating after they were spotted spending time at Kris Jenner's home in Palm Springs, California.
Even though their romantic relationship is still somewhat new, they've been friends for several years. They have lived in the same neighborhood for quite a while.
We'll see what happens with them. They appear to be extremely happy right now, and according to insiders, Barker had been wanting Kourtney for a long time. So if they do split, I don't think it'll be him doing the splitting. And why would he? We all know Kourtney is the best looking Kardashian. Don't @ me.
---