DaBaby Has Been Forgiven For His Homophobic Rant, But Dave Chappelle? Not So Fast!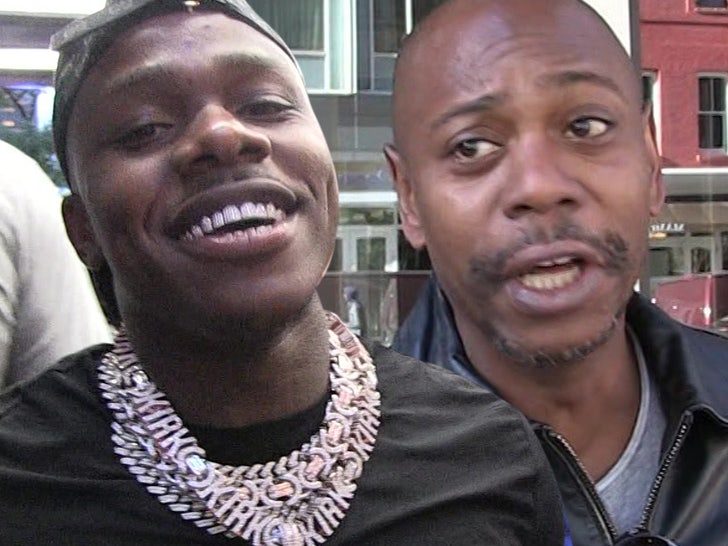 We have some good news and some bad news. According to one LGBTQ organization, DaBaby has been forgiven.
The CEO for Relationship Unleashed Gwendolyn D. Clemons, has reportedly "signed off" on DaBaby's recent appearance at Rolling Loud NY last week. Apparently, the 29-year-old rapper has learned a lot in recent months.
Clemons says DaBaby met with them as well as other orgs that advocate for the LGBTQ community — and insists they got through to him on why his diatribe about AIDS was hurtful and harmful.

RU gave DB a history lesson of sorts and educated the guy … including how HIV/AIDS affects people in his native Charlotte, NC — something Clemons thinks resonated with DaBaby, whom she believes did not understand what he was saying.
And hey, that's cool.
This is what the world needs more of. DaBaby said something that was ignorant, but instead of just banning him for life, this organization talked with him and made him understand how his words could be hurtful. And even if you don't think they were hurtful, they were dumb, and who wants to make themselves look dumb?
That being said, Clemons doesn't have the same praise for Chappelle because he has failed to show any empathy or remorse.
Relationship Unleashed thinks Dave's words from 'The Closer' are hate speech disguised as comedy … and he was gaslighting audiences into bigoted POVs.
You know, it's a complicated situation. Obviously this one LGBTQ organization doesn't speak for the entire LGBTQ community. Who knows where the majority of them stand, but I do see Clemons point with Chappelle.
I maintain that he's not a hateful guy and that he shouldn't be canceled, but I do believe the dude has developed a tremendous ego. Of course, you kinda need that as a comedian, but I think he needs to come back down to earth… at least a little bit.
But that won't happen if these organizations continue to come after him. It's just gonna fuel his desire to piss them off.
---