The Parents Of Top NHL Draft Pick Steal The Show After Sharing Steamy Kiss On Camera!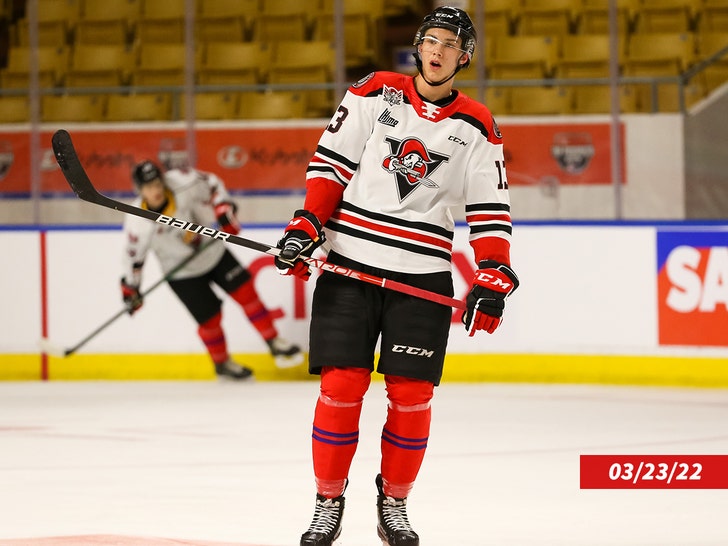 The NHL draft went down on Thursday night (July 7) and while it may not be as hyped as the NFL or NBA draft, it's still a pretty big deal for hockey players and fans.
The draft, which was broadcast on ESPN, featured multiple top NHL picks finding homes, including the 29th pick, Maveric Lamoureux. The 18-year-old athlete from Ontario was drafted by the Arizona Coyotes. They actually traded up three spots to land Maveric, who stands at an impressive 6'7.
When the deal was made official, the cameras focused in on Maveric's parents, who decided to celebrate with a quick and steamy make-out session.
Maveric Lamoureux's parents exchange tongues and the ESPN crew is loving it pic.twitter.com/qARJpArM1J

— CJ Fogler AKA Perc70 #BlackLivesMatter (@cjzero) July 8, 2022
Damn. The mom went in there hard with the tongue. The analysts seemed shocked by the kiss. They started laughing, with one of them saying, "Get after it, Mom and Dad!"
As for Maveric? Well, the cameras went back on him, and he seemed a little embarrassed. I mean, he was smiling, but it was kinda like, "Oh gee, oh boy," you know… cause he's from Canada, so I imagine he says "oh gee" when he gets embarrassed.
Hats off to these parents though. They both look good, and they clearly have an active sex life. Maveric should be proud, honestly. Not many kids have parents with healthy marriages.
By the way, cameras caught up with Maveric's dad following the kiss. He told the cameras that he's extremely proud of his son, "it's the best day of my life," he said. And we're sure it only got better when he and his wife hit the sheets.
---