Britney Spears Attacks Selena Gomez In Bizarre Instagram Post About Licking Ice Cream Cones
Remember when the world wanted to "FREE BRITNEY!" because her family was just locking her up inside a basement somewhere, collecting all her riches?
Well, Britney is now free, and to celebrate her freedom, she's been sharing a bunch of nudes on her Instagram account. At this point, her Instagram wall is like OnlyFans lite. Her sons have begged her to stop posting so many nudes online, because they've been getting bullied at school, but she doesn't seem to care.
No one is going to stop her from posting nude photos, not even the 2016 version of Selena Gomez. You see, way back in 2016, Gomez delivered a speech at the AMAs after winning Favorite Pop/Rock Female Artist. And during her speech, she talked about wanting to see less skin on Instagram.
I don't wanna see your bodies on Instagram. I wanna see what's in here [you hearts]. I'm not trying to get validation nor do I need it anymore.
Her speech was more about making sure young women felt comfortable in their own skin. She wasn't trying to slut shame anybody.
View this post on Instagram
But for some odd reason, Britney rewatched that speech from 2016 and took it personally, even though again… it was delivered six years ago.
Britney wrote on her Instagram account:
Don't you just love the nerve of women who stand firmly getting awards and speak on their beliefs about not showing their bodies on instagram ???!!!!! They say 'This is NOT something I would do' yet those women are the very ones who get 4 million dollar budget videos made about sucking and licking on homemade ice cream !!!! So the next time I see someone with a big budget video sucking on lollipops yet giving righteous speeches shaming other women for exposing their bodies, I would like to tell those people don't be a hypocrite.
She has since deleted the caption, but the damage has been done. People connected the dots to Selena because she's basically the only artist who has spoke on Instagram/body positivity at an award show while also starring in a music video where she licks ice cream.
Most people in the comments section of Britney's post spoke in defense of Selena.
Selena has shown nothing but love and support for you throughout the years and in return she gets weekly shady instagram posts from you.. check yourself girl.
And they have a point. Heck, Selena was part of the weird group of famous women who showed up to Britney's wedding earlier this year.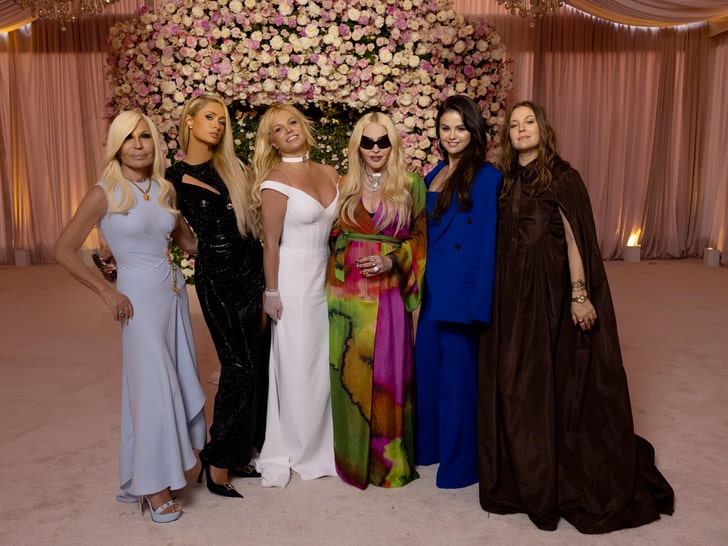 And you want to know why she showed up? Because Britney doesn't have any actual friends! Selena was just being nice!
Much like Kanye, Britney has legit mental issues, which are made more severe by millions of fans pumping them up every single day telling them how brilliant they are.
---