Did Machine Gun Kelly And Megan Fox Go Too Far With Their Cocaine-Fueled Halloween Costumes?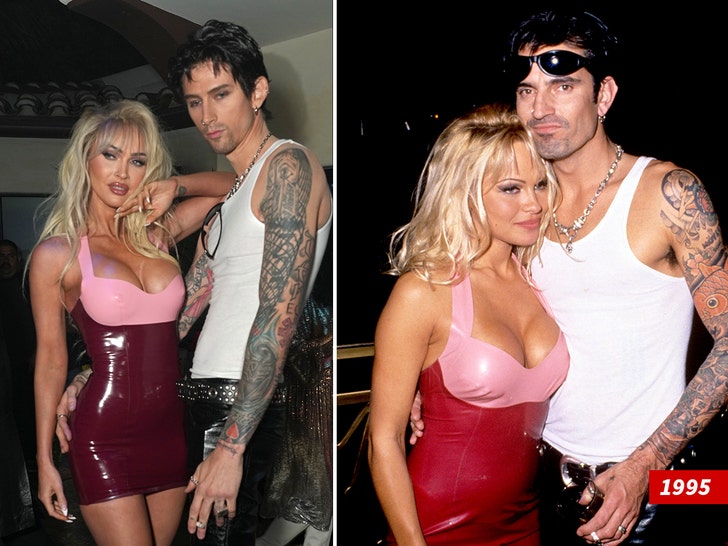 The stars love to go all out on Halloween. It's one of the most important times of the year for likes on Instagram, so you know they gotta do it up.
And Megan Fox and Machine Gun Kelly certainly "did it up" this past weekend. They dressed up as Tommy Lee and Pamela Anderson, which on the surface doesn't sound too extreme.
The rocker and actress dressed up as the iconic couple for Halloween this weekend … rocking their famed 1995 look from when they attended the grand opening for Hard Rock Hotel & Casino in Vegas, with Pam/Meg in a pink dress and Tommy/MGK in a tank top.
Okay, cool, right? Well, not so fast. MGK may have taken the look a little too far when he pulled out what appeared to be cocaine and snorted it off Megan's breasts.
The clip obviously went viral. After he snorts the mystery powder, he licks her boob and kisses her. Check out the video below…
Now obviously he wasn't actually snorting cocaine… at least we don't think. But still, people felt like he went a little too far.
What's interesting is that Pam and Tommy Lee previously revealed they didn't really do any drugs together. Tommy Lee had already partied himself out of town by the time he got with Pam, so this image that MGK and Fox are portraying isn't even that accurate.
But hey, it's Halloween. It's all fun, right? Good vibes. If you can't glorify drug use on Halloween, when can you? Pfft.
---