"Senseless Violence" And Stray Bullet To Blame In The Death Of Rapper Takeoff
We are slowly learning new information surrounding the death of Migos rapper Takeoff, and the information is pretty unfortunate.
If you missed the news, Takeoff was shot and killed at a bowling alley in Houston at around 2:30 in the morning on Tuesday, November 1. At the time, not much information was known. All we knew was that Takeoff was dead and two other people were transported to the hospital for injuries.
Now it's starting to look like Takeoff wasn't even part of the argument that led to the gunfire. According to a newly released video, Quavo was "toe-to-toe" with a group of guys outside the establishment. Takeoff and a few other guys were standing behind him.
They argued for a little over 30 seconds before the gunfire broke out.
Chaos ensued, with folks running in all directions to escape the hail of bullets. As we first reported, Takeoff was shot near his head, and despite efforts to resuscitate him — made by Quavo and a bystander — he was pronounced dead on the scene.
Cops are finding it difficult to investigate the shooting properly because they say most of the witnesses ran from the scene the moment it happened. They're asking anyone with information to come forward.
Meanwhile, Takeoff's manager released the following statement: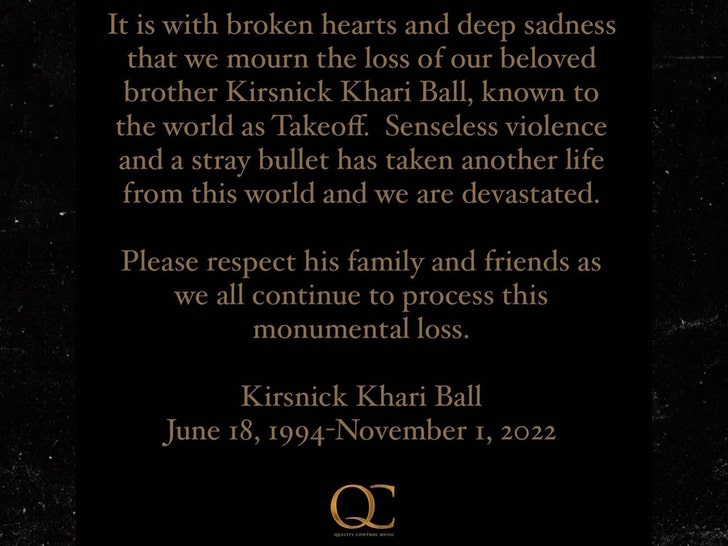 Such a sad ending to his life. Our continued thoughts and prayers go out to everyone who knew him.
---