Cardi B Caught On Camera Yelling At Both Quavo And Offset To Stop Fighting At Grammys
As we told you yesterday, there was drama between Offset and Quavo at the 2023 Grammys on Sunday. According to sources, the two stars had to be pulled apart backstage after a brief fight.
The fight went down minutes before Quavo took the stage to pay tribute to Takeoff, who died in a shooting back in November, 2022. Quavo performed 'Without You' onstage at the Grammys, which was a pretty special moment for him because he wrote it specifically for Takeoff.
And sources say Quavo did NOT want Offset to be in the moment with him. The Grammys had requested for Offset to perform with Quavo, but the 31-year-old rapper refused, which is what led to the fight backstage.
A new video has come out from backstage, and in it, you can hear Cardi B yelling at both Quavo and Offset. In the clip, she can be heard screaming, "Both of y'all's wrong! This is not right!!!" and then seconds later, she spoke to someone directly, "No bitch, shut the f*** up 'cause you shouldn't have been talking."
After taking care of business, Cardi came back to finish her interview with an ET reporter. The reporter asked Cardi if she was back there settling some stuff, but Cardi brushed it off and said the only thing she settled was her outfit.
It's worth noting that Offset went on his Twitter account yesterday and tried to downplay the entire event: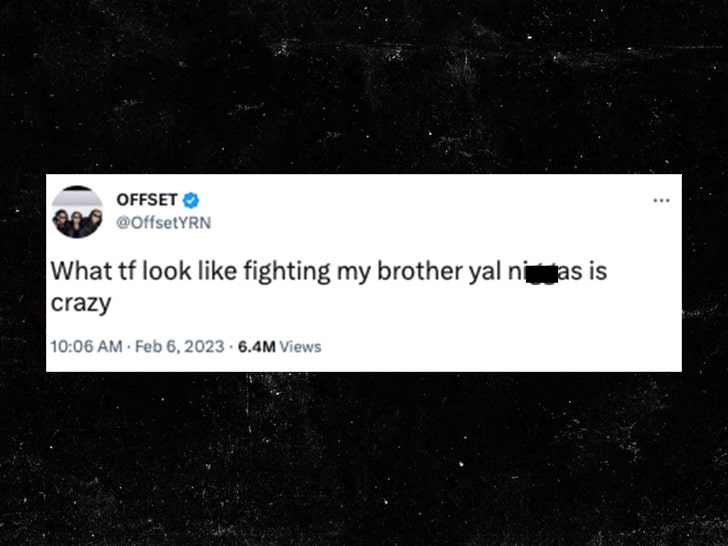 Hmm. Why do I feel like Offset is trying to gaslight me right now?
---